Mon incident: Army inquiry progressing expeditiously
The Indian Army today said that internal inquiry into the Mon incident is progressing expeditiously and all efforts are being made to conclude it at the earliest. Besides, the Army
The Indian Army today said that internal inquiry into the Mon incident is progressing expeditiously and all efforts are being made to conclude it at the earliest.
Besides, the Army also said that it has taken out notices for people to come forward and assist in the inquiry by providing any information including videos, photos or any other material from original sources about the incident.
Also Read: Sikkim snowfall: Over 1000 tourists rescued by Indian Army
The Army has opened 2 numbers to convey the information through 6026930283 for Whatsapp Messenger and +913742388456 which is the Army Exchange Helpline number.
In a statement, the Army also stated that it is also fully cooperating with the Special Investigation Team inquiry ordered by the state government & that required details are being shared promptly.
Also Read: Nagaland AFSPA repeal demand: Centre to constitute high-level committee
Meanwhile, the Army also appealed to the people of Nagaland to be patient and wait for the findings of the internal inquiry and assured of action as per law to secure justice for all.
The Army once again regretted the loss of lives in the Mon incident and termed it as sad and unfortunate.
WATCH:
(Visited 1 times, 1 visits today)
First Published: 26th December, 2021 20:15 IST
COMMENTS
WE RECOMMEND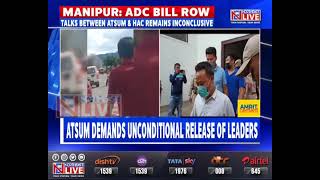 3 round of talks between ATSUM & HAC remains inconclusive
Despite 3 rounds of talks between the All Tribal Students Union Manipur and the Hill Areas Committee over the ADC Bill, 2021 and the arrest of 5 ATSUM leaders, efforts remained futile as the two sides failed to come to an agreement. (Visited 2 times, 2 visits today)
08th August 2022