Mob Attack at Batadrawa: OC Kumud Gogoi suspended for failing to perform duties
𝐌𝐨𝐛 𝐀𝐭𝐭𝐚𝐜𝐤 𝐚𝐭 𝐁𝐚𝐭𝐚𝐝𝐫𝐚𝐰𝐚 | The Officer-in-Charge of the police station in question has been suspended in connection with incident and the other police officials of the station have also
𝐌𝐨𝐛 𝐀𝐭𝐭𝐚𝐜𝐤 𝐚𝐭 𝐁𝐚𝐭𝐚𝐝𝐫𝐚𝐰𝐚 | The Officer-in-Charge of the police station in question has been suspended in connection with incident and the other police officials of the station have also been transferred. Meanwhile, the rest of the officials of the station who are on duty during the attack have been put on reserved clause. Meanwhile, a new police team has been appointed at the police station to take matters in their hands.
First Published: 22nd May, 2022 10:17 IST
COMMENTS
WE RECOMMEND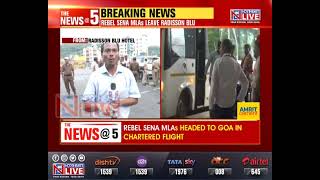 Rebel Sena MLAs camping in Guwahati head to Goa
𝐌𝐚𝐡𝐚𝐫𝐚𝐬𝐡𝐭𝐫𝐚 𝐏𝐨𝐥𝐢𝐭𝐢𝐜𝐚𝐥 𝐂𝐫𝐢𝐬𝐢𝐬 | Rebel Sena MLAs who had been camping in #Guwahati for over a week, have just left Hotel Radisson Blu and headed to the Lokpriya Gopinath Bordoloi International Airport. The rebel MLAs are headed to Goa ahead of tomorrow's floor test. The Rebel MLAs left in as many as 3 buses.
29th June 2022