Mizoram launches Covid vaccination for 15-18 year olds, holiday season delays state-wide rollout
Along with the rest of the country, Mizoram launched Covid vaccination for children between the age group of 15 to 18 years on January 3, 2022, at Presbyterian Church Girls'
Along with the rest of the country, Mizoram launched Covid vaccination for children between the age group of 15 to 18 years on January 3, 2022, at Presbyterian Church Girls' School in Aizawl. Health Minister Dr. R. Lalthangliana attended the program where he launched the vaccination drive.
As this is a holiday season, the vaccine is rolled out only in the Aizawl district for the day and will be followed by other districts in the next two to three days.  The state will be administering around  1 to 1.5 lakh doses of Covaxin. As per the latest reports, 67,000 doses of the vaccine reached Aizawl on December 30, 2021.
Once the teens are vaccinated with the first dose the second dose of Covaxin shall be administered after a 28 days interval. It will be carried out in every locality of all the districts of the state.
It may be noted that Mizoram is reeling under high positivity rate with more than 150 fresh cases of the infection being reported from the state.
(Visited 2 times, 1 visits today)
First Published: 3rd January, 2022 17:35 IST
COMMENTS
WE RECOMMEND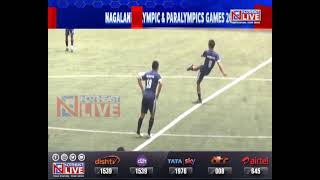 2nd edition of Nagaland Olympic & Paralympics Games 2022 begins today
𝐍𝐚𝐠𝐚𝐥𝐚𝐧𝐝 𝐎𝐥𝐲𝐦𝐩𝐢𝐜 𝐚𝐧𝐝 𝐏𝐚𝐫𝐚𝐥𝐲𝐦𝐩𝐢𝐜𝐬 𝐆𝐚𝐦𝐞𝐬 𝟐𝟎𝟐𝟐 | 𝐍𝐨𝐫𝐭𝐡𝐞𝐚𝐬𝐭 𝐋𝐢𝐯𝐞 | The 2nd edition of Nagaland Olympic and Paralympics Games 2022, "Football event", kick started today at Indira Gandhi stadium, Kohima, organized by Nagaland Olympic Association (NOA). (Visited 5 times, 1 visits today)
17th August 2022