Mysterious deaths of migratory birds in Tripura
In a shocking incident, the carcasses of several hundred migratory birds were spotted on Thursday at Sukh Sagar lake at Udaipur in Tripura's Gomati dist. A team of forest personnel
In a shocking incident, the carcasses of several hundred migratory birds were spotted on Thursday at Sukh Sagar lake at Udaipur in Tripura's Gomati dist.
A team of forest personnel led by DFO of Gomati district Mahendra Singh visited the spot and instructed for a thorough inquiry into the matter.
The bird carcasses were reportedly found lying over vast paddy fields and the lake.
Also Read: Hero ISL: Hyderabad FC defeats Odisha FC by 3-2
According to reports, these winged guests have been migrating to Udaipur during the winter season for the last six-seven years from California owing to extreme weather conditions in their actual habitat.
Locals, however, have alleged that the deaths of migratory birds could be a reaction to pesticides used in the croplands adjacent to the lake.
It may be mentioned here that Tripura's rich biodiversity makes the state an ideal location for the migratory birds to come and stay during the winter season.
WATCH:
(Visited 1 times, 1 visits today)
First Published: 28th January, 2022 11:40 IST
COMMENTS
WE RECOMMEND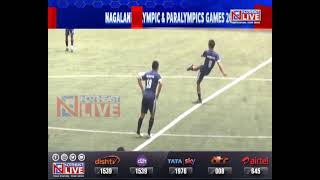 2nd edition of Nagaland Olympic & Paralympics Games 2022 begins today
𝐍𝐚𝐠𝐚𝐥𝐚𝐧𝐝 𝐎𝐥𝐲𝐦𝐩𝐢𝐜 𝐚𝐧𝐝 𝐏𝐚𝐫𝐚𝐥𝐲𝐦𝐩𝐢𝐜𝐬 𝐆𝐚𝐦𝐞𝐬 𝟐𝟎𝟐𝟐 | 𝐍𝐨𝐫𝐭𝐡𝐞𝐚𝐬𝐭 𝐋𝐢𝐯𝐞 | The 2nd edition of Nagaland Olympic and Paralympics Games 2022, "Football event", kick started today at Indira Gandhi stadium, Kohima, organized by Nagaland Olympic Association (NOA). (Visited 5 times, 1 visits today)
17th August 2022