Meghalaya: UDP to work with HSPDP in 2023, alliance on cards
A regional alliance is on the cards in the hill state. Senior UDP leader and Meghalaya Assembly speaker Metbah Lyngdoh on Wednesday indicated that the UDP would like to work
A regional alliance is on the cards in the hill state. Senior UDP leader and Meghalaya Assembly speaker Metbah Lyngdoh on Wednesday indicated that the UDP would like to work together with the HSPDP. The modalities of the alliance will be finalised post New year, Metbah Lyngdoh informed.
Ruling out unification of both parties, Lyngdoh said the idea was to coordinate for the poll battle.
Also Read: Northeast states shine at India Today Conclave
Lyngdoh added that the UDP is also getting feelers from other party leaders who are considering joining the party.
Further he said that there is no chance that any of any of the UDP MLAs would be jumping ship to other parties. He said that all their current MLAs would be contesting the next state polls from their party only. The party would be making efforts to make its presence felt in the state.
Also Read: Assam Police shoots dreaded child molester
The UDP chief said that they are looking to expand the reach of the party in the state ahead of the next assembly elections.
WATCH:
(Visited 3 times, 1 visits today)
First Published: 23rd December, 2021 11:35 IST
COMMENTS
WE RECOMMEND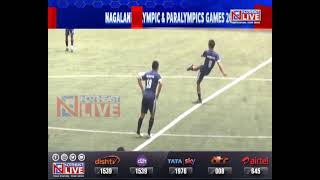 2nd edition of Nagaland Olympic & Paralympics Games 2022 begins today
𝐍𝐚𝐠𝐚𝐥𝐚𝐧𝐝 𝐎𝐥𝐲𝐦𝐩𝐢𝐜 𝐚𝐧𝐝 𝐏𝐚𝐫𝐚𝐥𝐲𝐦𝐩𝐢𝐜𝐬 𝐆𝐚𝐦𝐞𝐬 𝟐𝟎𝟐𝟐 | 𝐍𝐨𝐫𝐭𝐡𝐞𝐚𝐬𝐭 𝐋𝐢𝐯𝐞 | The 2nd edition of Nagaland Olympic and Paralympics Games 2022, "Football event", kick started today at Indira Gandhi stadium, Kohima, organized by Nagaland Olympic Association (NOA). (Visited 5 times, 1 visits today)
17th August 2022