Meghalaya's tourism sector gets Japanese boost, receives Rs 700 crore from JICA
The Meghalaya government has received an amount of Rs 700 crore from a Japan International Cooperation Agency or JICA for the promotion and development of the tourism sector in the
The Meghalaya government has received an amount of Rs 700 crore from a Japan International Cooperation Agency or JICA for the promotion and development of the tourism sector in the state. Chief Minister Conrad Sangma announced during the foundation laying ceremony of the state-of-the-art Eco Resort at the scenic Sakal A duma village under the Nokrek Biosphere Reserve in West Garo Hills district.
Also read: Omicron cases in India rise to 87 after fresh cases detected in Karnataka and Telangana
Addressing the gathering during the occasion, Chief Minister Sangma stated that the Japan International Cooperation Agency or JICA had given the state a fund of Rs 700 crore, out of which a sum of Rs. 350 crores have been earmarked each for Khasi and Garo Hills respectively.
Speaking about the resort, CM Sangma informed that the infrastructure will be one of the best tourist resorts in North East India. He added that an estimated amount of Rs. 23 crores will be spent on this project which is expected to be completed within a year.
Also read: Sikkim HC sets aside expulsion of four students, terms it 'violation of principles of natural justice'
Further, CM Sangma, said that the promotion and development of sustainable tourism involve the support of the local people, adding that the resort will be the property of the people of the region.
Sangma further stated that the Water Reservoir Project to protect and preserve the rivers, streams and other water bodies will soon be implemented in the state.
WATCH:
(Visited 9 times, 1 visits today)
First Published: 17th December, 2021 13:54 IST
COMMENTS
WE RECOMMEND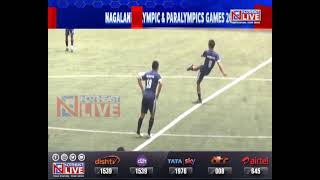 2nd edition of Nagaland Olympic & Paralympics Games 2022 begins today
𝐍𝐚𝐠𝐚𝐥𝐚𝐧𝐝 𝐎𝐥𝐲𝐦𝐩𝐢𝐜 𝐚𝐧𝐝 𝐏𝐚𝐫𝐚𝐥𝐲𝐦𝐩𝐢𝐜𝐬 𝐆𝐚𝐦𝐞𝐬 𝟐𝟎𝟐𝟐 | 𝐍𝐨𝐫𝐭𝐡𝐞𝐚𝐬𝐭 𝐋𝐢𝐯𝐞 | The 2nd edition of Nagaland Olympic and Paralympics Games 2022, "Football event", kick started today at Indira Gandhi stadium, Kohima, organized by Nagaland Olympic Association (NOA). (Visited 5 times, 1 visits today)
17th August 2022