Meghalaya Police holds Covid awareness program to curb Omicron surge
With an aim to create awareness among the public regarding the rapid spread of the Omicron variant of COVID-19, Meghalaya police organised a series of awareness programmes in market areas
With an aim to create awareness among the public regarding the rapid spread of the Omicron variant of COVID-19, Meghalaya police organised a series of awareness programmes in market areas and villages in East Garo Hills District on Tuesday.
The team comprises police personnel from the police stations of Rongjeng, Songsak, Williamnagar, and Chiading.
Also Read: Tripura government gears up to fight Covid, issues new guidelines
The awareness programme was organised following a direction from police headquarters in the backdrop of the rise in the number of COVID-19 cases across the State.
Meanwhile, the state reported 275 new COVID cases, taking the total active tally in the state to 1,318. On the other hand, two people have died as a result of COVID infection. The total death toll has risen to 1,492.
WATCH:
(Visited 2 times, 1 visits today)
First Published: 19th January, 2022 10:18 IST
COMMENTS
WE RECOMMEND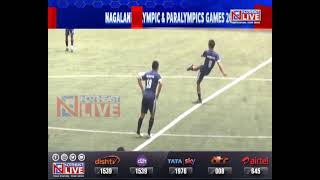 2nd edition of Nagaland Olympic & Paralympics Games 2022 begins today
𝐍𝐚𝐠𝐚𝐥𝐚𝐧𝐝 𝐎𝐥𝐲𝐦𝐩𝐢𝐜 𝐚𝐧𝐝 𝐏𝐚𝐫𝐚𝐥𝐲𝐦𝐩𝐢𝐜𝐬 𝐆𝐚𝐦𝐞𝐬 𝟐𝟎𝟐𝟐 | 𝐍𝐨𝐫𝐭𝐡𝐞𝐚𝐬𝐭 𝐋𝐢𝐯𝐞 | The 2nd edition of Nagaland Olympic and Paralympics Games 2022, "Football event", kick started today at Indira Gandhi stadium, Kohima, organized by Nagaland Olympic Association (NOA). (Visited 5 times, 1 visits today)
17th August 2022