Meghalaya kickboxers miss out on World Championship due to lack of funds
First Published: 25th May, 2018 19:28 IST
Due to lack of funds four kickboxers from Meghalaya including a World rank holder had to cancel their participation in the 9th WAKO Diamond World Cup which was to be
Due to lack of funds four kickboxers from Meghalaya including a World rank holder had to cancel their participation in the 9th WAKO Diamond World Cup which was to be held in Russia.
A team of four kickboxers including 28 rank holder Hameshaniah Suiam had to cancel their participation in the world Diamond championship scheduled for May 30.
Hameshaniah Suiam did mange to collect the necessary amount required for expenses only to be informed that it was too late to apply for the visa. Suiam however is hopeful that better days will come their way soon.
Meanwhile, Working President of the Meghalaya State Kickboxing Association Lorenzo Warjri felt that the fate of the kickboxers would have been different, had the Meghalaya State Olympic Association granted them affiliation and put them under government funding.
Warjri claimed that the letter was submitted to the Meghalaya State Olympic Association nine months ago but in reply they were asked to wait till the 2020 National Games.
COMMENTS
WE RECOMMEND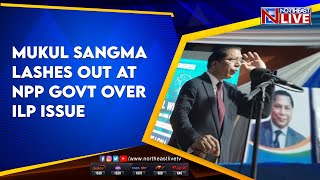 Mukul Sangma lashes out at NPP Govt over ILP issue
The Opposition TMC on Friday lashed out at the NPP led MDA government and accused it of betraying the people and playing with their sentiments as far as the demand for the implementation of the Inner Line Permit is concerned.
10th December 2022