Meghalaya & Arunachal Pradesh's Tableau sizzles during Republic Day Parade
The tableau of Meghalaya, which celebrated its 50th statehood recently, was the first to be displayed among the tableaux in Raj Ghat. Tableau also depicts the success story of Women-led
The tableau of Meghalaya, which celebrated its 50th statehood recently, was the first to be displayed among the tableaux in Raj Ghat. Tableau also depicts the success story of Women-led SHG Movement & Cooperative Societies in the State.
The tableau of Arunachal was also displayed during the Republic Day celebration. The tableau showcased the Anglo-Abor wars based on the resistance of the indigenous people who bravely fought the British.
Also Read: Nagaland: Mon Incident Inquiry, AFSPA Repeal feature in CM Rio's Republic Day Address
The state's tableau was cleared on January 15th by the Union Defence Ministry during the final round for presentation in the Republic Day Parade.
It is worthy to mention here that the tableau, conceptualised and designed by the Art and Exhibition Cell of the Directorate of Information and Public Relations of Arunachal Pradesh, is attempting to exhibit the bravery of the Adis and how their forefathers fought against the Britishers.
(Visited 4 times, 1 visits today)
First Published: 26th January, 2022 18:59 IST
COMMENTS
WE RECOMMEND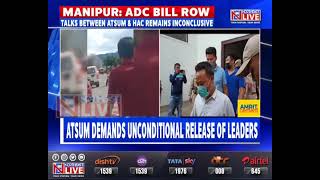 3 round of talks between ATSUM & HAC remains inconclusive
Despite 3 rounds of talks between the All Tribal Students Union Manipur and the Hill Areas Committee over the ADC Bill, 2021 and the arrest of 5 ATSUM leaders, efforts remained futile as the two sides failed to come to an agreement. (Visited 1 times, 1 visits today)
08th August 2022