Manipur war on drugs: Head constable held in multi-crore drug haul
Lunminthang Haokip, a head constable of Manipur Police was arrested in connection with the seizure a massive drugs consignment.
At a time when the N Biren Singh government has intensified the war on drugs, the involvement of police personnel in a multi-crore drugs haul has come to light.
Lunminthang Haokip who is a head constable of the Manipur Police in Churachandpur district has been arrested in connection with the seizure a massive drugs consignment.
Kangpokpi SP Amrita Sinha who led a special operation recovered the contraband from a car after frisking of the vehicle while plying through the National Highway-2.
At least, 212 soap cases containing suspected Heroin weighing 2.131 Kg worth Rs 31. 80 crores in the international market were recovered from a secret chamber of the car.
On preliminary investigation, both the persons identified as Solensei Haokip and Jamgoulen Haokip hailing from Churachandpur district, admitted themselves to be drug peddlers.
Upon further interrogation, the drug peddlers further disclosed that they had obtained the contraband from head constable Lunminthang Haokip.
Meanwhile, an unregistered SUV has also been seized from the possession of the head constable.
This indeed is a big development as far as Manipur's War on Drugs is concerned. Besides, the involvement of a cop in this illegal trade has raised concerns although the crackdown has intensified with every passing day in Manipur.
Earlier, the Poumai Naga tribe of the state declared a 'drug free zone' against poppy plantation in the Poumai area of the Senapati district.
Moreover, nearly 70% people of the hills have come out strongly supporting the movement to eradicate drugs and called upon those involved in the illegal drug business, encouraging poppy plantation, drug peddling to young students, etc. in the Valley, to cease operation.
First Published: 11th May, 2022 18:29 IST
COMMENTS
WE RECOMMEND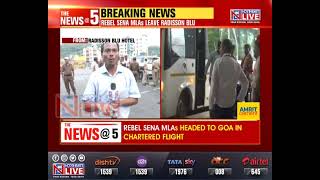 Rebel Sena MLAs camping in Guwahati head to Goa
𝐌𝐚𝐡𝐚𝐫𝐚𝐬𝐡𝐭𝐫𝐚 𝐏𝐨𝐥𝐢𝐭𝐢𝐜𝐚𝐥 𝐂𝐫𝐢𝐬𝐢𝐬 | Rebel Sena MLAs who had been camping in #Guwahati for over a week, have just left Hotel Radisson Blu and headed to the Lokpriya Gopinath Bordoloi International Airport. The rebel MLAs are headed to Goa ahead of tomorrow's floor test. The Rebel MLAs left in as many as 3 buses.
29th June 2022