Assam: Lt. Gen Rana Pratap Kalita To take over as GOC-in-C of Eastern Army Command
In a piece of good news for Assam and the Northeast Lt General Rana Pratap Kalita will take over as General Officer Commanding-in-chief of the Eastern Army Command on February
In a piece of good news for Assam and the Northeast Lt General Rana Pratap Kalita will take over as General Officer Commanding-in-chief of the Eastern Army Command on February 1.
Lt General Rana Pratap Kalita will become the first army official hailing from Assam and the Northeast, to assume this coveted and sensitive post.
It may be mentioned that Lt General Rana Pratap Kalita was also the first from Assam to be conferred with the highly prestigious Uttam Yudh Sewa Medal last year.
Earlier, he was also honoured with Seva Medal and Vishisht Seva Medal for his outstanding service.
The current Eastern Army commander, Lt General Manoj Pande will be the new Vice Chief of Army Staff.
Before his posting as the GOC-in-C of Eastern Command, General Pande was the GOC of the Tezpur base Four Corps.
(Visited 12 times, 1 visits today)
First Published: 25th January, 2022 22:27 IST
COMMENTS
WE RECOMMEND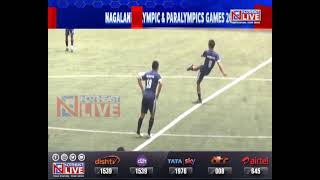 2nd edition of Nagaland Olympic & Paralympics Games 2022 begins today
𝐍𝐚𝐠𝐚𝐥𝐚𝐧𝐝 𝐎𝐥𝐲𝐦𝐩𝐢𝐜 𝐚𝐧𝐝 𝐏𝐚𝐫𝐚𝐥𝐲𝐦𝐩𝐢𝐜𝐬 𝐆𝐚𝐦𝐞𝐬 𝟐𝟎𝟐𝟐 | 𝐍𝐨𝐫𝐭𝐡𝐞𝐚𝐬𝐭 𝐋𝐢𝐯𝐞 | The 2nd edition of Nagaland Olympic and Paralympics Games 2022, "Football event", kick started today at Indira Gandhi stadium, Kohima, organized by Nagaland Olympic Association (NOA). (Visited 5 times, 1 visits today)
17th August 2022