Manipur Assembly Polls: New outfit Kuki People's Alliance formed
With the assembly polls round the corner in Manipur, a new political party under the name "Kuki People's Alliance" has been formed in a bid to protect the identity of
With the assembly polls round the corner in Manipur, a new political party under the name "Kuki People's Alliance" has been formed in a bid to protect the identity of the kuki population in the state.
The newly formed political party was granted recognition by the Election Commission on January 12.
The party is being headed by Tongmang Haokip as president and Dr Chinkholal Thangsing, WL Hangshing, and Chinhmthang Manlun as vice presidents, general secretaries, and joint secretaries, respectively.
KPA president, Tongmang Haokip, said that the Kuki People's Alliance' had been floated with the objective of protecting the identity as well as promoting and propagating the ideology and history of the Kukis.
Also Read: Tripura: Electricity contractors alleges Non-payment of dues
Reiterating that Kukis are sidelined in many ways, Tongmang stated that despite being one of the principal communities in Manipur, the Kukis have been neglected and their identity has been questioned over the years.
On fielding candidates in the upcoming state assembly election, Haokip said that the party is aiming to fight the ensuing election in at least 10 constituencies where there is a dominant Kuki population, depending on the popularity of the candidates and their background. 
Speaking in similar veins, KPA general secretary WL Hangshing said that the Kukis are being treated as non-existent in political terms. He added that there was an urgent need to have a common platform or a forum where the kukis would be able to assert their rights and have their grievances taken into account.
WATCH:
(Visited 7 times, 1 visits today)
First Published: 20th January, 2022 12:27 IST
COMMENTS
WE RECOMMEND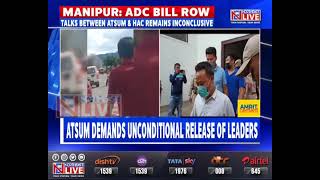 3 round of talks between ATSUM & HAC remains inconclusive
Despite 3 rounds of talks between the All Tribal Students Union Manipur and the Hill Areas Committee over the ADC Bill, 2021 and the arrest of 5 ATSUM leaders, efforts remained futile as the two sides failed to come to an agreement. (Visited 3 times, 3 visits today)
08th August 2022