Covid update: Karnataka government lifts weekend restrictions
The weekend curfew in Karnataka has been lifted with immediate effect by the state government. R Ashoka, the revenue minister of Karnataka, said, "We relied on the advice of experts
The weekend curfew in Karnataka has been lifted with immediate effect by the state government. R Ashoka, the revenue minister of Karnataka, said, "We relied on the advice of experts and government authorities. The weekend curfew will be lifted on Saturday and Sunday."
"Old guidelines will be in force for rallies, dharnas, and programmes," the minister stated. Karnataka now has 2,93,231 active COVID cases, with 2,86,000 persons under home isolation.
Also Read: Assam Government sanctions Rs. 25 crore for Assam University
The Karnataka government has previously been advised by Covid experts that the worst-case scenario for the state is 1 to 1.2 lakh Covid cases each day. They further stated that the number of cases in Karnataka is projected to climb in the coming weeks, with the top still to be achieved.
Experts say 60,000 to 70,000 cases a day is the best case scenario for Karnataka. Karnataka has had 40,000 cases of COVID-19 in the last two days.
(Visited 1 times, 1 visits today)
First Published: 21st January, 2022 20:20 IST
COMMENTS
WE RECOMMEND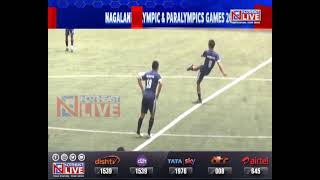 2nd edition of Nagaland Olympic & Paralympics Games 2022 begins today
𝐍𝐚𝐠𝐚𝐥𝐚𝐧𝐝 𝐎𝐥𝐲𝐦𝐩𝐢𝐜 𝐚𝐧𝐝 𝐏𝐚𝐫𝐚𝐥𝐲𝐦𝐩𝐢𝐜𝐬 𝐆𝐚𝐦𝐞𝐬 𝟐𝟎𝟐𝟐 | 𝐍𝐨𝐫𝐭𝐡𝐞𝐚𝐬𝐭 𝐋𝐢𝐯𝐞 | The 2nd edition of Nagaland Olympic and Paralympics Games 2022, "Football event", kick started today at Indira Gandhi stadium, Kohima, organized by Nagaland Olympic Association (NOA). (Visited 5 times, 1 visits today)
17th August 2022