HM Amit Shah to inaugurate 1st medical college in Churachandpur, Manipur; CM takes stock of preparedness
First Published: 3rd January, 2023 15:53 IST
Home Minister Shah would also inaugurate northeast India's first Olympic Park and the polo statue atop Ibudhou Marjing Hill during his visit to Manipur on Jan 6
Last minute preparations are underway in full swing as Churachandpur, the hill district of Manipur bordering Myanmar, is all set to get its first Medical College. Union Home Minister Amit Shah would inaugurate the College on January 6. To ensure that everything is in place, Chief Minister N Biren Singh on Tuesday reviewed the arrangements and preparedness for HM's visit and the inauguration ceremony.
Speaking to reporters in Churanchadpur, Chief Minister N Biren Singh gave a thumbs up and said that the state is ready to welcome the Union Home Minister. He said that the College will be very beneficial for the students and the people of the region. Referring to the Home Minister as the "right hand man" of Prime Minister Narendra Modi, the CM said that the College holds a lot of significance and importance for PM Modi and therefore the PM is sending his the "right hand man", Home Minister Shah, to inaugurate the College. "As a first medical college (in hill district) you have to show the nation that we can do it.," the CM said.
Besides inaugurating the Medical College, the Home Minister would also inaugurate northeast India's first Olympic Park at Sangaithel hillock and the polo statue atop Ibudhou Marjing Hill. At 120 feet, the statue would be the region's tallest. The estimated cost of the projects is said to be over Rs 300 crores.
Also Read : Manipur High Court directs state government to make Manipur State Human Rights Commission functional within 10 days
COMMENTS
WE RECOMMEND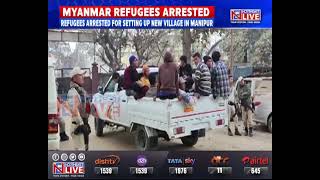 80 illegal immigrants arrested in Manipur
The District Administration of Tengnoupal led by Deputy Commissioner Ranjan Yumnam and Superintendent of Police B Golianmang arrested as many as 80 illegal refugees from Myanmar who had set up a new village inside Manipur.
28th January 2023