Hero ISL: NEUFC face Hyderabad FC challenge today
The current season of the Indian Super League (ISL) has been a downer to say the least for Northeast United FC, having lost 3 of their last 5 matches with
The current season of the Indian Super League (ISL) has been a downer to say the least for Northeast United FC, having lost 3 of their last 5 matches with just 1 win, the Highlanders have been pushed down to the 9th place on the league table, however, this can be their motivation for improvements as they go up against Hyderabad FC at the GMC Athletic Stadium today.
On the other hand, the Nizams will be looking to push their bounds, they are ranked 5th on the points table with the potential to improve with each passing match. Hyderabad FC has won 2 of their last 4 matches, even defeating title holders Mumbai City FC, which showcases a strong form as they have managed to perform well under pressure which might continue in this match.
Assistant coach, Alison Kharsyntiew said the team will be much more clinical with their approach in the next game. He also admitted to the fact that the team is coming into the match just after their encounter against Odisha FC on 10 December, and some of the players are yet to fully recover.
Midfielder Imran Khan added the boys are excited for the next match and are confident of securing the 3 points.
WATCH:
(Visited 1 times, 1 visits today)
First Published: 13th December, 2021 11:37 IST
COMMENTS
WE RECOMMEND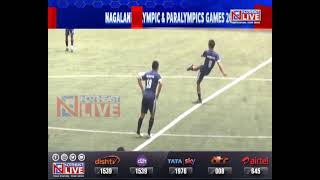 2nd edition of Nagaland Olympic & Paralympics Games 2022 begins today
𝐍𝐚𝐠𝐚𝐥𝐚𝐧𝐝 𝐎𝐥𝐲𝐦𝐩𝐢𝐜 𝐚𝐧𝐝 𝐏𝐚𝐫𝐚𝐥𝐲𝐦𝐩𝐢𝐜𝐬 𝐆𝐚𝐦𝐞𝐬 𝟐𝟎𝟐𝟐 | 𝐍𝐨𝐫𝐭𝐡𝐞𝐚𝐬𝐭 𝐋𝐢𝐯𝐞 | The 2nd edition of Nagaland Olympic and Paralympics Games 2022, "Football event", kick started today at Indira Gandhi stadium, Kohima, organized by Nagaland Olympic Association (NOA). (Visited 5 times, 1 visits today)
17th August 2022