Heavy rainfall turn roads into rivers in Meghalaya
#Meghalaya | Visuals on your screen shows parts of Smit, a village in East Khasi, being inundated with water. On the other hand, Nongstoin in West Khasi Hills and Ranikor
#Meghalaya | Visuals on your screen shows parts of Smit, a village in East Khasi, being inundated with water. On the other hand, Nongstoin in West Khasi Hills and Ranikor in South West Khasi Hills are also experiencing heavy down pour with water gushing through the streets and bye lanes.
First Published: 13th May, 2022 16:53 IST
COMMENTS
WE RECOMMEND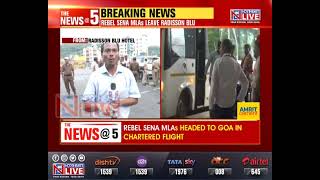 Rebel Sena MLAs camping in Guwahati head to Goa
𝐌𝐚𝐡𝐚𝐫𝐚𝐬𝐡𝐭𝐫𝐚 𝐏𝐨𝐥𝐢𝐭𝐢𝐜𝐚𝐥 𝐂𝐫𝐢𝐬𝐢𝐬 | Rebel Sena MLAs who had been camping in #Guwahati for over a week, have just left Hotel Radisson Blu and headed to the Lokpriya Gopinath Bordoloi International Airport. The rebel MLAs are headed to Goa ahead of tomorrow's floor test. The Rebel MLAs left in as many as 3 buses.
29th June 2022