Guwahati Hit and Run: Model Rajkanya Baruah accident victim from Garo Hills succumbs to injuries
Joseph Marak, the 55-year-old from Meghalaya and one among the 9 PWD workers, who were mowed down by fashion model Rajkanya Baruah on October 2, reportedly succumbed to his injuries
Joseph Marak, the 55-year-old from Meghalaya and one among the 9 PWD workers, who were mowed down by fashion model Rajkanya Baruah on October 2, reportedly succumbed to his injuries in the wee hours of November 10.
Joseph Marak who lost both his legs in the accident was being treated on GMCH.
Joseph Marak's treatment and all his medical expenses were taken care of by former MLA of Meghalaya, Rophul S Marak. Speaking to Northeast Live, Rophul S Marak said that Joseph has lost his wife in the lockdown last year and he is survived by three children and his mother-in-law. The eldest of the children is 17 years old, and the youngest is about 8 years old. The family was is in very bad shape as Joseph Marak was the sole earner. Further, former MLA Rophul Marak has been trying his level best to take necessary steps for the family. He has appealed to both Assam and Meghalaya governments to compensate for the death.
Model Rajkanya Baruah mowed down eight construction workers in the middle of GS Road late on October 2 and was later arrested by police. After being released on bond, she has been in judicial prison since October 8. Assam police have filed a charge sheet in the case in a lower court. It has also been brought to the Gauhati High Court's attention. Her accident became public after widespread outrage erupted when she was released on bail shortly after the incident
Rajkanya was arrested five days after the accident, from a city hospital where she on October 7, where she was admitted under false pretenses. Following the incident, the Kamrup (Metro) district administration issued Taj Vivanta a show-cause notice, requiring them to submit CCTV camera footage as well as the guest list from the October 1 event.
(Visited 1 times, 1 visits today)
First Published: 10th November, 2021 13:17 IST
COMMENTS
WE RECOMMEND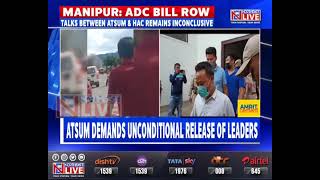 3 round of talks between ATSUM & HAC remains inconclusive
Despite 3 rounds of talks between the All Tribal Students Union Manipur and the Hill Areas Committee over the ADC Bill, 2021 and the arrest of 5 ATSUM leaders, efforts remained futile as the two sides failed to come to an agreement. (Visited 3 times, 3 visits today)
08th August 2022