Know about Guru Tulku Rinpoche, former abbot of Tawang Monastery conferred with Padma Shri
Guru Tulku Rinpoche, an eminent Buddhist monk from Arunachal Pradesh, who headed the historical Gaden Namgyal Lhatse or Tawang monastery till 2016, has been selected for the Padma Shri, the
Guru Tulku Rinpoche, an eminent Buddhist monk from Arunachal Pradesh, who headed the historical Gaden Namgyal Lhatse or Tawang monastery till 2016, has been selected for the Padma Shri, the fourth-highest civilian award in the country.
Guru Tulku Rinpoche has been selected to receive the prestigious award under the "spiritualism" category, along with Sadguru Brahmeshanand Acharya Swami from Goa.
Guru Tulku Rinpoche was born to Yab Lobsang Tshering and Yum Pema Choden on October 19, 1968, at Khamkharong in the West Kameng district of Arunachal Pradesh.
It's believed that he was recognised as the reincarnation of the Late Thupten Kelden Rinpoche at the age of five by the 14th Dalai Lama.
The late Thupten Kelden Rinpoche was the 11th Merag Lama.
Guru Tulku Rinpoche's traditional haircut was performed by the Dalai Lama when he was seven years old during his Kalachakra teaching and was named Tenzin Kelden.
He was ordained as a novice monk, or Getshul, two years later, when he was nine, and as a monk, or Gelong, when he was twenty. In the meantime, he studied at the Institute of Buddhist Dialectics for 13 years.
Guru Tulku Rinpoche started serving at the office of the Dalai Lama in 1998 and continued there for ten years till 2008, when he was appointed as Abbot of the Tawang monastery.
It may be mentioned here that a total of 128 people have been honoured with the Padma Awards this year including India's first Chief of Defence Staff General Bipin Rawat who has been honoured posthumously with the Padma Vibhushan, India's second-highest civilian award.
(Visited 18 times, 1 visits today)
First Published: 29th January, 2022 18:10 IST
COMMENTS
WE RECOMMEND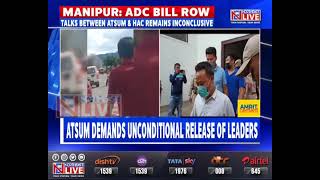 3 round of talks between ATSUM & HAC remains inconclusive
Despite 3 rounds of talks between the All Tribal Students Union Manipur and the Hill Areas Committee over the ADC Bill, 2021 and the arrest of 5 ATSUM leaders, efforts remained futile as the two sides failed to come to an agreement. (Visited 3 times, 3 visits today)
08th August 2022