Finance Minister Nirmala Sitharaman inaugurates several development projects in Tripura
Union Finance Minister Nirmala Sitharaman who is on a two-day visit to Tripura, inaugurated a host of development projects and reviewed the progress of Emergency Assistance Projects (EAP) in the
Union Finance Minister Nirmala Sitharaman who is on a two-day visit to Tripura, inaugurated a host of development projects and reviewed the progress of Emergency Assistance Projects (EAP) in the state.
The Union Finance Minister arrived at Agartala this morning. She was given a warm reception by State finance minister Jishnu Dev Varma and state BJP president Manik Saha. Later, she met Chief Minister Biplab Kumar Deb and exchanged greetings at the State Guest House.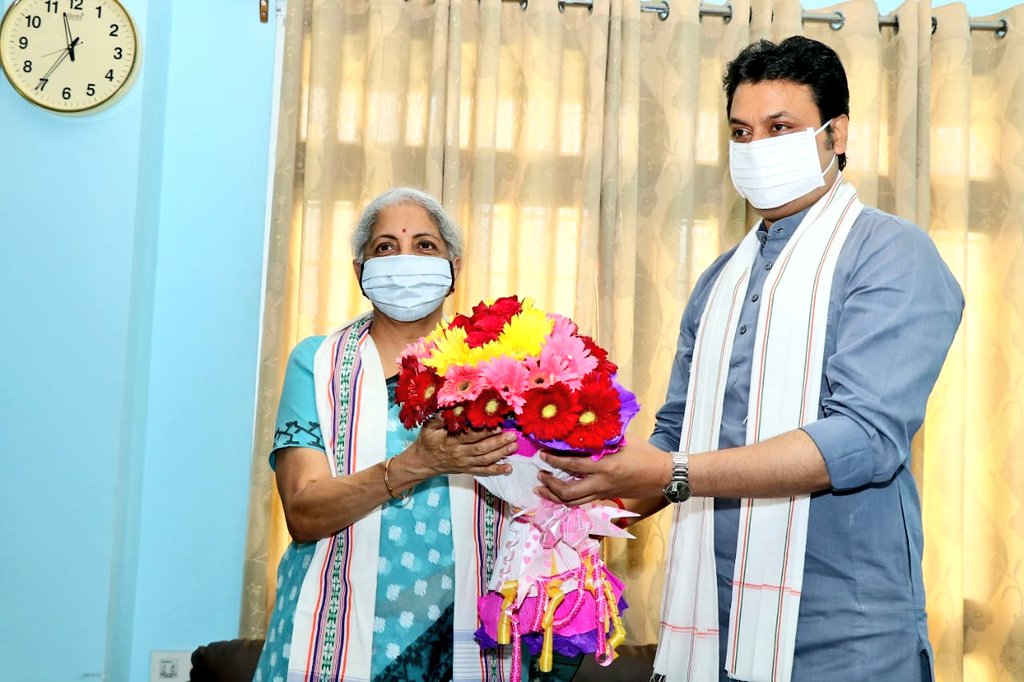 After her arrival, Sitharaman chaired a meeting with the ministers, senior government officials and review Emergency Assistance Projects (EAP) in the state.
Tripura Chief Minister Biplab Kumar Deb tweeted, "Attended the Externally Aided Project's review meeting with FM Smt @nsitharaman Ji Deputy CM @Jishnu_Devvarma & other officials were present on the occasion These EAPs are important for the holistic development of the state and the betterment of the livelihood of its citizens."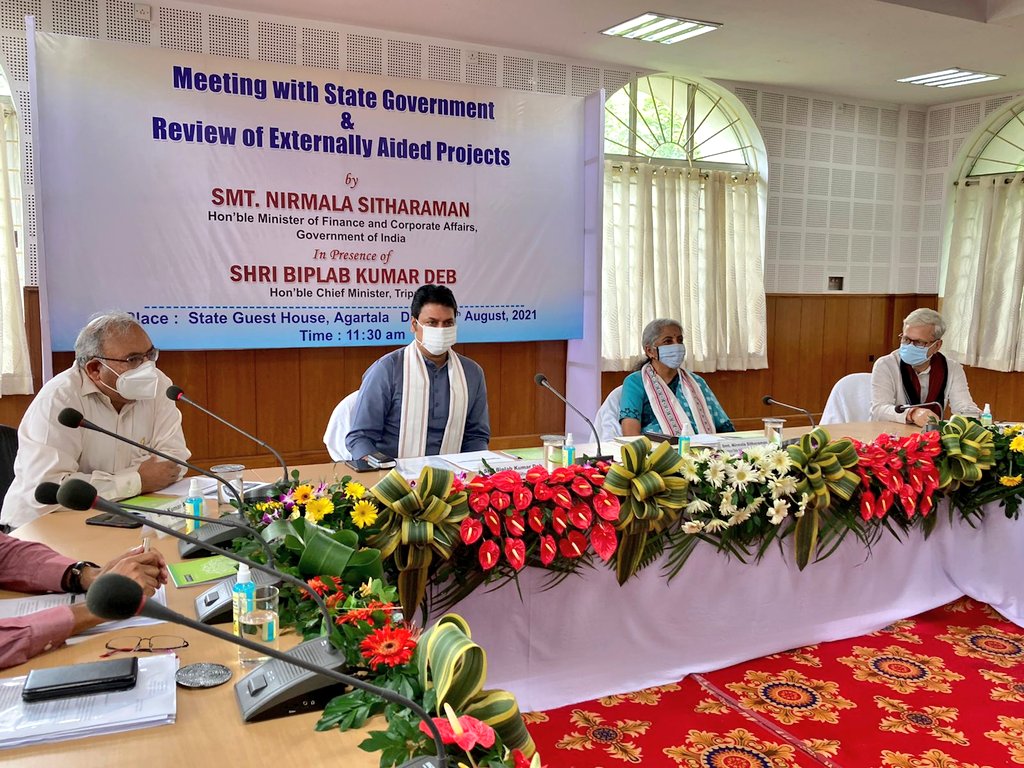 Addressing a public gathering at Mohanpur near Agartala, the Union Minister declared that within a week, an ambitious project aimed to create sustainable livelihood and infrastructure development worth Rs 1,300 crore will be cleared from the Centre.
She added that the project will be implemented exclusively in the tribal dominated areas of the state.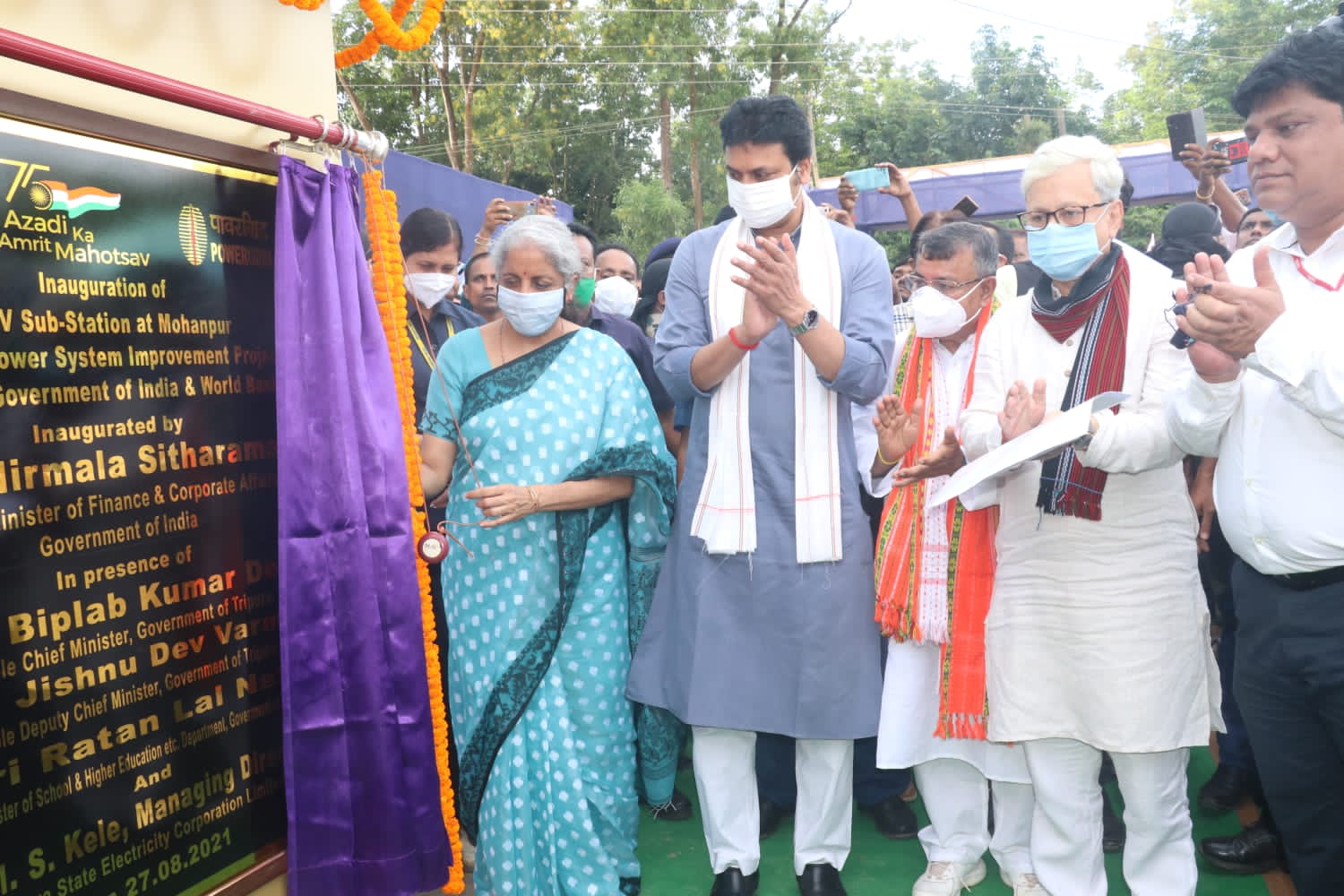 The Finance Minister also inaugurated a 132 KV sub-station besides 80,000 functional tap connections along with 132 drinking water supply schemes at Mohanpur.
She also visited the COVID Care Centre at Gandhigram under West Tripura on the outskirts of Agartala to oversee the vaccination process.
First Published: 27th August, 2021 20:49 IST
COMMENTS
WE RECOMMEND
Brig BD Mishra to take oath as Meghalaya Guv today
Arunachal Pradesh Governor Brigadier BD Mishra will be sworn in as the Governor of Meghalaya today. The additional charge was handed over to Mishra on Monday.  Brigadier BD Mishra will be sworn in as the Governor of Meghalaya today at 4:30 PM at Raj Bhavan in Shillong.  Also Read : Assam origin Faron Medhi crowned […]
04th October 2022