Assam: Majuli ferry services suspended
𝐅𝐞𝐫𝐫𝐲 𝐒𝐞𝐫𝐯𝐢𝐜𝐞 𝐬𝐮𝐬𝐩𝐞𝐧𝐝𝐞𝐝 | Ferry services to the river island of Majuli have been suspended. The ferry services between Majuli and Nimatighat in Jorhat have been suspended given the rising
𝐅𝐞𝐫𝐫𝐲 𝐒𝐞𝐫𝐯𝐢𝐜𝐞 𝐬𝐮𝐬𝐩𝐞𝐧𝐝𝐞𝐝 | Ferry services to the river island of Majuli have been suspended. The ferry services between Majuli and Nimatighat in Jorhat have been suspended given the rising levels of the Brahmaputra River.
First Published: 19th May, 2022 15:10 IST
COMMENTS
WE RECOMMEND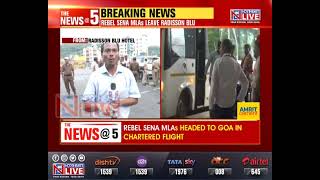 Rebel Sena MLAs camping in Guwahati head to Goa
𝐌𝐚𝐡𝐚𝐫𝐚𝐬𝐡𝐭𝐫𝐚 𝐏𝐨𝐥𝐢𝐭𝐢𝐜𝐚𝐥 𝐂𝐫𝐢𝐬𝐢𝐬 | Rebel Sena MLAs who had been camping in #Guwahati for over a week, have just left Hotel Radisson Blu and headed to the Lokpriya Gopinath Bordoloi International Airport. The rebel MLAs are headed to Goa ahead of tomorrow's floor test. The Rebel MLAs left in as many as 3 buses.
29th June 2022