Assam: 3-day state Equestrian Championship concludes in Dibrugarh
The three-day State Equestrian Championship, which witnessed active participation from the equestrian sporting fraternity of the state, concluded on Sunday. The second edition of the event, organised by the Equestrian
The three-day State Equestrian Championship, which witnessed active participation from the equestrian sporting fraternity of the state, concluded on Sunday.
The second edition of the event, organised by the Equestrian Federation of Assam at Dibrugarh's Ethel World Tea Estate, featured jumping, dressage, and tent pegging competitions across the age categories of children, juniors, and seniors.
Arman Abdullah, representing Assam Valley School, won the Junior Dressage, Open Jumping Topscore, and Open Six Bar.
Also Read: Killing of Agri Minister aides in Manipur: CM vows 'befitting punishment'
Astarebeni Choudhary, representing Assam Police, won the Children – II Hacks and was placed second in the Children – II Dressage events. Siddhanth Kabra, representing the NCC, won the cadet and police jumping events and was placed second in tent pegging. Representing the EFA, he was placed third in Open Dressage.
Nammeir Ahmed won the Open Six Bar jointly with Mr. Arman Abdullah, on two horses. He was also placed first in the open show jumping and was placed second in the open dressage. The prestigious Gen OP Malhotra trophy for the best rider was retained by Nammeir Ahmed.
WATCH:
(Visited 2 times, 1 visits today)
First Published: 10th January, 2022 16:30 IST
COMMENTS
WE RECOMMEND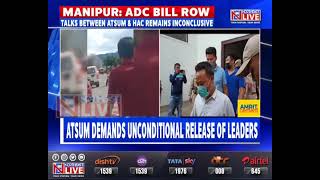 3 round of talks between ATSUM & HAC remains inconclusive
Despite 3 rounds of talks between the All Tribal Students Union Manipur and the Hill Areas Committee over the ADC Bill, 2021 and the arrest of 5 ATSUM leaders, efforts remained futile as the two sides failed to come to an agreement. (Visited 1 times, 1 visits today)
08th August 2022