Arunachal: Druba Puja Festival observed by Memba Buddhist community
The week long Druba Puja Festival of the Memba Buddhist community of Tuting subdivision and Gelling circle in the Upper Siang district of Arunachal Pradesh drew to a close on
The week long Druba Puja Festival of the Memba Buddhist community of Tuting subdivision and Gelling circle in the Upper Siang district of Arunachal Pradesh drew to a close on Wednesday. People from various nearby villages took part in the festival, which was held at Khopa village, 9 km from Tuting.
It may be mentioned here that the people from the Memba community are followers of Buddhism.
Also Read: Assam-Arunachal border row: Situation tense at Mingmang along Inter-state border
Their social, religious, cultural, and ritualistic lives are governed by the rules and regulations of Buddhism.
The main objective of the festival is to preserve the age-old tradition and culture of the Memba community. The mask dance, or Bardo Cham, represents religious belief in deities and spirits.After the traditional dance performances, the monks bestow their blessings on the people.
WATCH:
(Visited 4 times, 1 visits today)
First Published: 27th January, 2022 14:20 IST
COMMENTS
WE RECOMMEND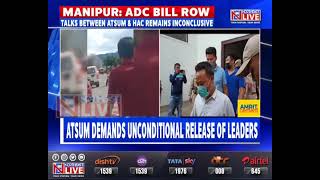 3 round of talks between ATSUM & HAC remains inconclusive
Despite 3 rounds of talks between the All Tribal Students Union Manipur and the Hill Areas Committee over the ADC Bill, 2021 and the arrest of 5 ATSUM leaders, efforts remained futile as the two sides failed to come to an agreement. (Visited 3 times, 3 visits today)
08th August 2022