Demand for stern Anti Rape Law in Manipur
First Published: 17th April, 2018 10:27 IST
Protests against rapes and demand for formulation of Anti Rape Law has been growing louder by the minute and Manipur has now also joined the rest of the country in
Protests against rapes and demand for formulation of Anti Rape Law has been growing louder by the minute and Manipur has now also joined the rest of the country in the endeavour.
Members of Victims' Communities of Sexual Assault or the VCSA on Monday supported leaders of various Joint Action Committee which has been formed with the intention of early redressal of rape cases in the state.
The protesters first staged a sit in protest at the western gate of Kangla in the heart of Imphal shouting slogans to make their voices heard.
The sit in protest was followed by a rally organised by the VCSA where its members took to the busy streets of the city try to draw attention of the locals towards the urgent formulation of a stringent anti rape law.
The rally started from Pishumthong and finally concluded at Kesihampat after covering sufficient ground in the western part of the city.
COMMENTS
WE RECOMMEND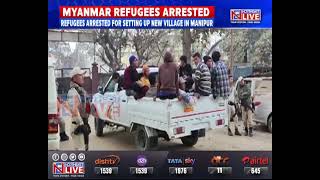 80 illegal immigrants arrested in Manipur
The District Administration of Tengnoupal led by Deputy Commissioner Ranjan Yumnam and Superintendent of Police B Golianmang arrested as many as 80 illegal refugees from Myanmar who had set up a new village inside Manipur.
28th January 2023