Death of Migratory Birds In Tripura: Carcasses mysteriously disappear
The mystery over the migratory birds' 'carcasses' recovered in Tripura's Sukh Sagar Lake has got murkier. Forest officials, who went to the site to recover the dead avians which were
The mystery over the migratory birds' 'carcasses' recovered in Tripura's Sukh Sagar Lake has got murkier. Forest officials, who went to the site to recover the dead avians which were reportedly in the hundreds, were not able to retrieve a single sample.
Principal Chief Conservator of Forest Tripura Dr DK Sharma said that the forest department personnel did not find any bird carcasses at Udaipur's Sukh Sagar Lake under Tripura's Gomati district. According to Sharma, the local Gram Pradhan told the forest personnel that there were dead birds over a hundred in numbers floating on the lake and adjacent low lying croplands.
The way the carcasses mysteriously disappeared from the spot shocked the forest department as well as the villagers. Some sources in the forest department said that it could be an act of the predators who snared the birds in a death trap in the first place and on sensing trouble they removed the dead birds to destroy evidence.
The birds were spotted on Thursday at Sukh Sagar lake at Udaipur in Tripura's Gomati dist.
A team of forest personnel led by DFO of Gomati district Mahendra Singh visited the spot and instructed for a thorough inquiry into the matter.
The bird carcasses were reportedly found lying over vast paddy fields and the lake.
According to reports, these winged guests have been migrating to Udaipur during the winter season for the last six-seven years from California owing to extreme weather conditions in their actual habitat.
Locals, however, have alleged that the deaths of migratory birds could be a reaction to pesticides used in the croplands adjacent to the lake.
(Visited 1 times, 1 visits today)
First Published: 29th January, 2022 14:37 IST
COMMENTS
WE RECOMMEND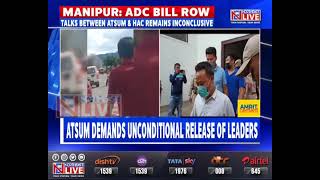 3 round of talks between ATSUM & HAC remains inconclusive
Despite 3 rounds of talks between the All Tribal Students Union Manipur and the Hill Areas Committee over the ADC Bill, 2021 and the arrest of 5 ATSUM leaders, efforts remained futile as the two sides failed to come to an agreement. (Visited 3 times, 3 visits today)
08th August 2022