Covid Alert: Assam logs record 8,339 cases in a single day spike
Assam's COVID tally has taken a massive spike with more than 8000 cases being reported. In the latest numbers, a total of 8,339 fresh COVID cases have been reported from
Assam's COVID tally has taken a massive spike with more than 8000 cases being reported. In the latest numbers, a total of 8,339 fresh COVID cases have been reported from the state.
Out of these fresh cases, 1,929 cases have been reported from Kamrup Metropolitan district. With these fresh cases, Assam's COVID positivity rate now stands at 12.89 percent. The fresh COVID cases have taken the state's active caseload to a total of 35,161.
Also Read: Assam-Meghalaya border talks: Meghalaya Congress seeks special session
What is more concerning is that the number of COVID-related deaths has also been increasing in the state. To be more precise, Assam reported 15 fresh COVID-related deaths.
On the other hand, a total of 2,723 COVID patients were discharged in the last 24 hours after attaining full recovery. This results in a recovery rate of 93.62 percent.
WATCH:
(Visited 1 times, 1 visits today)
First Published: 20th January, 2022 10:17 IST
COMMENTS
WE RECOMMEND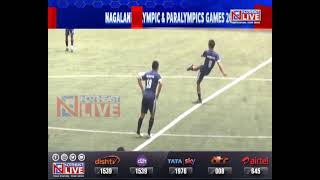 2nd edition of Nagaland Olympic & Paralympics Games 2022 begins today
𝐍𝐚𝐠𝐚𝐥𝐚𝐧𝐝 𝐎𝐥𝐲𝐦𝐩𝐢𝐜 𝐚𝐧𝐝 𝐏𝐚𝐫𝐚𝐥𝐲𝐦𝐩𝐢𝐜𝐬 𝐆𝐚𝐦𝐞𝐬 𝟐𝟎𝟐𝟐 | 𝐍𝐨𝐫𝐭𝐡𝐞𝐚𝐬𝐭 𝐋𝐢𝐯𝐞 | The 2nd edition of Nagaland Olympic and Paralympics Games 2022, "Football event", kick started today at Indira Gandhi stadium, Kohima, organized by Nagaland Olympic Association (NOA). (Visited 5 times, 1 visits today)
17th August 2022