Covid-19 Alert -14 districts in Northeast still registering high positivity rate
In a concerning development, 14 out of the total 27 districts nationwide with a high Covid positivity rate have been traced to the Northeast. In an alert issued, Union Health
In a concerning development, 14 out of the total 27 districts nationwide with a high Covid positivity rate have been traced to the Northeast. In an alert issued, Union Health Secretary, Rajesh Bhushan today urged states and union territories to closely monitor the Covid situation in these 27 districts.
In a letter to Chief Secretaries and administrators of states, the Union Health secretary stated that 8 districts in 3 states have been reporting 10% positive rates in the past two weeks. Further, 19 districts in 7 states and Union Territories have been reporting a positivity rate between 5% -10% in the past two weeks.
Now, of the 8 districts across the nation recording over 10% positivity rate, as many as 6 are in the Northeast. Moreover, 5 of these affected districts are in Mizoram and one in Sikkim.
If we look at the district-wise positivity rates, Hnahthial recorded 22.37 %, Serchip has a positivity rate of 19.29 %, Champai has a positivity rate of 16.01%, Lunglei has a positivity rate of 10.77% and Lawngtlai has a positivity rate of 10.34 %.
Also Read: Human rights violations: US Imposes Sanctions On China, Myanmar & North Korea
South District in Sikkim has a positivity rate of 24.81%. Apart from these 8 districts, there are 19 other districts where the positivity rate is hovering between 5%-10%. Of these 19, 8 are in the Northeast. Again, it is Mizoram that tops the chart in the number of affected districts here with Aizawl, Mamit, Khawzawl, Saitual, and Saiha in the list.
While Aizawl has a positivity rate of 9.79%, Mamit registered 9.46%, Khawzawl registered a positivity rate of 8.18%, Saitual recorded 7.01% and Saiha recorded a positivity rate of 5.23%. Meanwhile, in Arunachal's West Kameng the positivity rate is 8.75%. The positivity rate in Imphal West meanwhile is 5.79% and that in Dimapur is 5.02%.
Looking at the Covid numbers in Mizoram, the state registered over 1400 cases only in the last 5 days with 330 cases registered on December 7th, 273 covid cases on December 8th, 320 on December 9th, 328 cases yesterday, and 257 cases today.
Watch:
(Visited 1 times, 1 visits today)
First Published: 11th December, 2021 20:59 IST
COMMENTS
WE RECOMMEND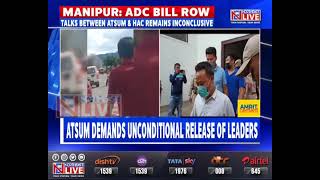 3 round of talks between ATSUM & HAC remains inconclusive
Despite 3 rounds of talks between the All Tribal Students Union Manipur and the Hill Areas Committee over the ADC Bill, 2021 and the arrest of 5 ATSUM leaders, efforts remained futile as the two sides failed to come to an agreement. (Visited 1 times, 1 visits today)
08th August 2022