CM N. Biren Singh issues stern warning to government employees
First Published: 24th March, 2018 13:53 IST
Chief minister N. Biren Singh has made a fervent appeal to the government employees to end cease work and resume normal duty from Monday onwards. He further added that if
Chief minister N. Biren Singh has made a fervent appeal to the government employees to end cease work and resume normal duty from Monday onwards.
He further added that if the appeal is not reciprocated, then prior order has been given to principal secretaries and deputy commissioners to engage workers on contractual basis.
It may be mentioned that Joint Administrative Council of AMTUC and AMGEO resumed their cease work strike from 22 March pushing their 22 point charter of demand including main demand on implementation of 7th Pay Commission.
It may also be recalled that during the 2017 state assembly election BJP commited to fulfil the recommendation of 14th Finance commission by paying the state government employees 7th Central Pay structure.
Perhaps, the newly installed BJP led government in Tripura ant its cabinet decision to pay the state government employees 7th Central Pay triggered JAC in Manipur to resume cease work strike pushing their demand for the same.
In Tripura too, during the recently held election BJP committed to pay state government employees 7th Central pay through its Vision Document.
COMMENTS
WE RECOMMEND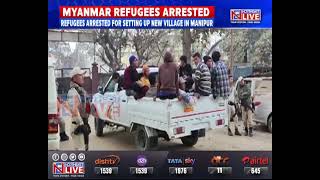 80 illegal immigrants arrested in Manipur
The District Administration of Tengnoupal led by Deputy Commissioner Ranjan Yumnam and Superintendent of Police B Golianmang arrested as many as 80 illegal refugees from Myanmar who had set up a new village inside Manipur.
28th January 2023