Assam: Cabinet meet set to take place in Haflong, Covid scenario on focus
The weekly cabinet meeting of the Assam government is scheduled to be held in the hill station of Haflong. At the meeting today, Chief Minister Himanta Sarma and his cabinet
The weekly cabinet meeting of the Assam government is scheduled to be held in the hill station of Haflong.
At the meeting today, Chief Minister Himanta Sarma and his cabinet ministers will be participating in the meeting, where the highlight will be on the COVID scenario in the state.
As per reports, the meeting is scheduled to be held at 2:30 in the afternoon. Meanwhile, preparations have been made in Haflong for the meeting today.
Also Read: Arunachal Pradesh: Tableau on 'Anglo-Abor War' to feature in Republic Day Parade
Security has been beefed up in the hill town with heavy fortification of the venue of the cabinet meeting.
The cabinet ministers have started arriving in Haflong for today's cabinet meeting. The general publics of Haflong are enthusiastic over the cabinet meeting in their town. People expressed their expectations from today's cabinet meeting.
Notably today's cabinet meeting assumes significance as the main focus of the meeting will be reviewing the rising COVID cases in the state. There is a high possibility of the government tightening the COVID protocols in the state given the current scenario.
WATCH:
(Visited 5 times, 1 visits today)
First Published: 19th January, 2022 13:16 IST
COMMENTS
WE RECOMMEND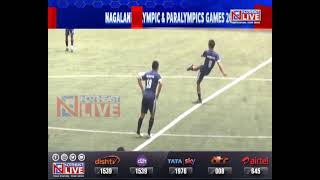 2nd edition of Nagaland Olympic & Paralympics Games 2022 begins today
𝐍𝐚𝐠𝐚𝐥𝐚𝐧𝐝 𝐎𝐥𝐲𝐦𝐩𝐢𝐜 𝐚𝐧𝐝 𝐏𝐚𝐫𝐚𝐥𝐲𝐦𝐩𝐢𝐜𝐬 𝐆𝐚𝐦𝐞𝐬 𝟐𝟎𝟐𝟐 | 𝐍𝐨𝐫𝐭𝐡𝐞𝐚𝐬𝐭 𝐋𝐢𝐯𝐞 | The 2nd edition of Nagaland Olympic and Paralympics Games 2022, "Football event", kick started today at Indira Gandhi stadium, Kohima, organized by Nagaland Olympic Association (NOA). (Visited 5 times, 1 visits today)
17th August 2022