Manipur's War On Drugs: Brown Sugar of ₹2Cr seized by Tengnoupal Police
Continuing the War on Drugs in Manipur, Narcotic Cell Team "B" of Tengnoupal Police on Sunday, recovered over 1 kilogramme of brown sugar worth over Rs 2 crore from Tengnoupal
Continuing the War on Drugs in Manipur, Narcotic Cell Team "B" of Tengnoupal Police on Sunday, recovered over 1 kilogramme of brown sugar worth over Rs 2 crore from Tengnoupal district.
25 soap cases of Brown Sugar weighing over 1 kilo were recovered from a vehicle, 2 persons were also arrested for possessing the drugs. The Brown sugar is valued at Rs 2 crore, 16 lakh, and 40 thousand.
Also Read: Sikkim's Temi Tea fetches 7.5K per kilo, breaks past records
The arrested individuals have been identified as K.Samuel of Tuibong and Nianghoihsiam of New Zouveng, both from Churachandpur district. Meanwhile, an FIR has been registered at Tengnoupal Police Station, and cash rewards were also handed over to the team.
It needs to be mentioned here that this is the 11th seizure of drugs by Tengnoupal district police since March 25th, and the approximate value of the total seizure till date is Rs. 54.81 crores.
First Published: 11th April, 2022 11:26 IST
COMMENTS
WE RECOMMEND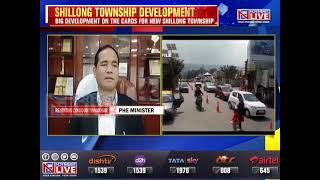 Shillong township development : Over Rs 200 cr sanctioned for water supply scheme
𝐒𝐡𝐢𝐥𝐥𝐨𝐧𝐠 𝐭𝐨𝐰𝐧𝐬𝐡𝐢𝐩 𝐝𝐞𝐯𝐞𝐥𝐨𝐩𝐦𝐞𝐧𝐭 | New Shillong Township is expected to be developed in a big way soon as the state government is likely to get a sanction of more than 200 crores for the New Shillong Township Water Supply Scheme. This was informed by PHE minister Renikton Lyngdoh Tongkhar. Speaking to the media, he said […]
29th May 2022