BJP violated model code of conduct by releasing funds for rebel outfits: Congress
Congress observer for Manipur Jairam Ramesh has levelled serious allegations against the N. Biren Singh government. Ramesh has accused the ruling BJP of violating the election code of conduct. Ramesh
Congress observer for Manipur Jairam Ramesh has levelled serious allegations against the N. Biren Singh government.
Ramesh has accused the ruling BJP of violating the election code of conduct. Ramesh has said that in a violation of the model code of conduct, the Union Home Ministry and the BJP led Manipur government have released funds for banned militant outfits under Suspension of Operations. Ramesh said that Rs 15.7 crores were released on February 1 and Rs 92.7 lakhs was released on March 3 for the militant outfits. Ramesh has called the entire move a mockery of elections in the state's 4 districts.
Manipur PWD minister Thongam Biswajit and state BJP president have dismissed the allegations levelled by the Congress observer.
Notably, this is not the first time that Congress has accused the BJP of taking help from the rebels. However time again the ruling party has denied such accusations claiming that it was Congress who had alleged relations with the rebel outfits.
The final phase of the Manipur Assembly Elections is taking place on March 5 with voting to be held for 22 seats
(Visited 1 times, 1 visits today)
First Published: 3rd March, 2022 21:43 IST
COMMENTS
WE RECOMMEND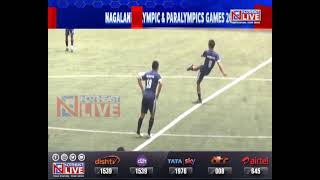 2nd edition of Nagaland Olympic & Paralympics Games 2022 begins today
𝐍𝐚𝐠𝐚𝐥𝐚𝐧𝐝 𝐎𝐥𝐲𝐦𝐩𝐢𝐜 𝐚𝐧𝐝 𝐏𝐚𝐫𝐚𝐥𝐲𝐦𝐩𝐢𝐜𝐬 𝐆𝐚𝐦𝐞𝐬 𝟐𝟎𝟐𝟐 | 𝐍𝐨𝐫𝐭𝐡𝐞𝐚𝐬𝐭 𝐋𝐢𝐯𝐞 | The 2nd edition of Nagaland Olympic and Paralympics Games 2022, "Football event", kick started today at Indira Gandhi stadium, Kohima, organized by Nagaland Olympic Association (NOA). (Visited 5 times, 1 visits today)
17th August 2022