14-yr-old Bharath Subramaniyam becomes India's 73rd Chess Grandmaster
Fourteen-year-old Bharath Subramaniyam on Sunday became India's 73rd chess grandmaster, securing the third and final GM norm at an event in Italy. The Chennai-based player scored 6.5 points from nine
Fourteen-year-old Bharath Subramaniyam on Sunday became India's 73rd chess grandmaster, securing the third and final GM norm at an event in Italy.
The Chennai-based player scored 6.5 points from nine rounds along with four others to finish seventh overall in the event held at Cattolica.
Also Read: Assam: 3-day state Equestrian Championship concludes in Dibrugarh
He obtained his third GM norm and also touched the requisite 2,500 (Elo) mark. M R Lalith Babu, another Indian player, won the tournament with seven points, winning on the basis of a better tie-break score after tying with three others, including top-seed Anton Korobov.
Bharath achieved his first GM norm after securing 11th place at the Aeroflot Open in Moscow in February 2020. He secured the second norm after placing 4th in the Junior Roundtable Under 21 tournament in Bulgaria with 6.5 points in October 2021.
Also Read: Killing of Agri Minister aides in Manipur: CM vows 'befitting punishment'
Subramaniyam became an International Master at the age of 11 years and 8 months in 2019. To become a GM, a player has to secure three GM norms and cross the live rating of 2,500 Elo points.
(Visited 1 times, 1 visits today)
First Published: 10th January, 2022 16:44 IST
COMMENTS
WE RECOMMEND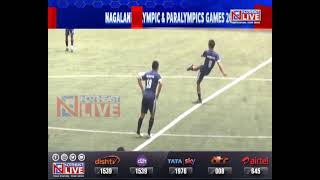 2nd edition of Nagaland Olympic & Paralympics Games 2022 begins today
𝐍𝐚𝐠𝐚𝐥𝐚𝐧𝐝 𝐎𝐥𝐲𝐦𝐩𝐢𝐜 𝐚𝐧𝐝 𝐏𝐚𝐫𝐚𝐥𝐲𝐦𝐩𝐢𝐜𝐬 𝐆𝐚𝐦𝐞𝐬 𝟐𝟎𝟐𝟐 | 𝐍𝐨𝐫𝐭𝐡𝐞𝐚𝐬𝐭 𝐋𝐢𝐯𝐞 | The 2nd edition of Nagaland Olympic and Paralympics Games 2022, "Football event", kick started today at Indira Gandhi stadium, Kohima, organized by Nagaland Olympic Association (NOA). (Visited 5 times, 1 visits today)
17th August 2022