Meghalaya: Unidentified miscreants attack Shillong residents
In a shocking incident in Meghalaya Capital Shillong, a group of unidentified miscreants assaulted people in the Lumdiengjri area at around 4-4:30 pm on Wednesday. The three injured were brought
In a shocking incident in Meghalaya Capital Shillong, a group of unidentified miscreants assaulted people in the Lumdiengjri area at around 4-4:30 pm on Wednesday.
The three injured were brought to civil hospital Shillong of which Chandan Paul 55 years a resident of lower Mawprem is claimed to have been stabbed by family members.
The other two Nurjul Mullah 30 years and Abdul S Chaudhary 38 both residents of Garikhana suffered injuries on the face and back.
According to the injured, a group of unidentified miscreants went on a rampage hitting people as they walked past  Lumdiengjri.
From the three, two are shopkeepers and Nurjul was standing outside the SBI ATM opposite to Lumdiengjri police station when he was assaulted all of a sudden.
(Visited 1 times, 1 visits today)
First Published: 21st January, 2022 10:38 IST
COMMENTS
WE RECOMMEND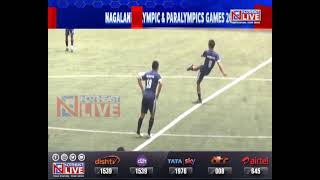 2nd edition of Nagaland Olympic & Paralympics Games 2022 begins today
𝐍𝐚𝐠𝐚𝐥𝐚𝐧𝐝 𝐎𝐥𝐲𝐦𝐩𝐢𝐜 𝐚𝐧𝐝 𝐏𝐚𝐫𝐚𝐥𝐲𝐦𝐩𝐢𝐜𝐬 𝐆𝐚𝐦𝐞𝐬 𝟐𝟎𝟐𝟐 | 𝐍𝐨𝐫𝐭𝐡𝐞𝐚𝐬𝐭 𝐋𝐢𝐯𝐞 | The 2nd edition of Nagaland Olympic and Paralympics Games 2022, "Football event", kick started today at Indira Gandhi stadium, Kohima, organized by Nagaland Olympic Association (NOA). (Visited 5 times, 1 visits today)
17th August 2022