Assam Police shoots dreaded child molester
The Assam Police shot a dreaded criminal accused of molesting at least 4 children in Assam's Morigaon area. As per inputs, the 55-year-old accused identified as Rajkanta Daimary had allegedly
The Assam Police shot a dreaded criminal accused of molesting at least 4 children in Assam's Morigaon area.
As per inputs, the 55-year-old accused identified as Rajkanta Daimary had allegedly molested 3 children aged 5, 6, and 9 respectively on Wednesday itself, following which the police had taken him to the crime spot around midnight as part of the investigation.
Also Read: Assam-Meghalaya Border Dispute: CMs meet in Guwahati
Reportedly Daimary tried to flee from the spot; and he was shot by the investigating officers.
Also Read: CM Sarma meets BJP MLAs, discuss party & govt's improved coordination
The accused is currently admitted at the Gauhati Medical College and Hospital (GMCH).
WATCH:
(Visited 2 times, 1 visits today)
First Published: 23rd December, 2021 10:11 IST
COMMENTS
WE RECOMMEND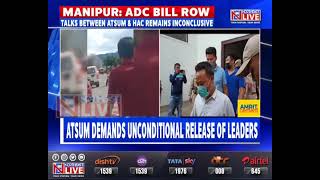 3 round of talks between ATSUM & HAC remains inconclusive
Despite 3 rounds of talks between the All Tribal Students Union Manipur and the Hill Areas Committee over the ADC Bill, 2021 and the arrest of 5 ATSUM leaders, efforts remained futile as the two sides failed to come to an agreement. (Visited 3 times, 3 visits today)
08th August 2022