Assam-Mizoram border dispute: State govts agree to take measures for peace
The crucial high level meeting between Assam and Mizoram to resolve the boundary dispute has concluded at the historic Aijal Club in Aizawl on Thursday. The governments of Assam and
The crucial high level meeting between Assam and Mizoram to resolve the boundary dispute has concluded at the historic Aijal Club in Aizawl on Thursday.
The governments of Assam and Mizoram issued a joint statement in which both the states welcomed and agreed to take forward the initiatives taken by the Ministry of Home Affairs (MHA) and their Chief Ministers to remove tensions prevailing around the the inter-state border and to find lasting solutions to the disputes through discussions
Besides, the Mizoram government has also conveyed its condolences for the loss of lives of 6 Assam police personnel on July 26.
Meanwhile, in a significant decision the Assam and Mizoram governments have agreed to maintain peace in the inter-state border areas and welcomed deployment of neutral force by the Centre.
In this regard, the states have decided not to send their respective forest and police forces for patrolling, domination enforcement or for fresh deployment to any of the areas where conflict and confrontation has taken place between police forces of both the sides in the recent times.
Both the state governments have agreed to take all necessary measures to promote preserve and maintain peace and harmony amongst people living in Assam and Mizoram particularly in the border areas.
The meeting assumes great significance as both the states have expressed their keen desire to end the long pending dispute that finally took an ugly turn on July 26. The deliberations are perhaps the beginning of the of the bilateral efforts to permanently resolve the border dispute.
Assam cabinet ministers Atul Bora and Ashok Singhal accompanied by Commissioner and Secretary Border GD Tripathy and a host of other officials were present in the meeting.
On the other hand, Home Minister Lalchamliana, RD and Revenue Minister Lalruatkima and home secretary Vanlal-ngaihsaka represented the Mizoram side. Besides, representatives of Young Mizo Association and Mizo Zirlai Pawl were also present in the closed door meeting.
(Visited 1 times, 1 visits today)
First Published: 5th August, 2021 16:19 IST
COMMENTS
WE RECOMMEND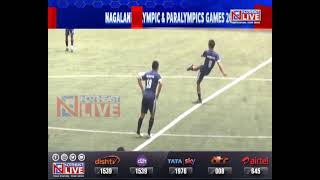 2nd edition of Nagaland Olympic & Paralympics Games 2022 begins today
𝐍𝐚𝐠𝐚𝐥𝐚𝐧𝐝 𝐎𝐥𝐲𝐦𝐩𝐢𝐜 𝐚𝐧𝐝 𝐏𝐚𝐫𝐚𝐥𝐲𝐦𝐩𝐢𝐜𝐬 𝐆𝐚𝐦𝐞𝐬 𝟐𝟎𝟐𝟐 | 𝐍𝐨𝐫𝐭𝐡𝐞𝐚𝐬𝐭 𝐋𝐢𝐯𝐞 | The 2nd edition of Nagaland Olympic and Paralympics Games 2022, "Football event", kick started today at Indira Gandhi stadium, Kohima, organized by Nagaland Olympic Association (NOA). (Visited 5 times, 1 visits today)
17th August 2022