Assam witnessed economic growth in 2021: CM Sarma
The 2021 report card of Assam has shown significant improvement. Addressing distinguished editors of top media houses in Assam, Chief Minister Himanta Biswa Sarma today informed that from the time
The 2021 report card of Assam has shown significant improvement. Addressing distinguished editors of top media houses in Assam, Chief Minister Himanta Biswa Sarma today informed that from the time the current government assumed office last year, Assam has not only shown a fast economic development, but also had a stable law and order situation.
Moreover, Chief Minister Sarma said as many as 800 decisions were taken in 31 cabinet meetings held so far. He said the goal was to keep the government operations running without people facing the brunt of red tapism. Chief Minister Sarma made a special of the Mission Vasundhara wherein at least 1 lakh 25 thousand applications have been resolved out of the 8 lakh applications received. He added that all pending applications will be resolved by May 10.
Stressing on the importance of e-services in eradicating issues such as corruption, Chief Minister Sarma said the government seeks to make every service technology based in the next three years, and put an end to the existing manual mode of governance.
(Visited 1 times, 1 visits today)
First Published: 1st January, 2022 19:18 IST
COMMENTS
WE RECOMMEND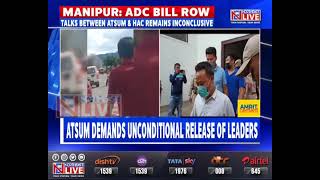 3 round of talks between ATSUM & HAC remains inconclusive
Despite 3 rounds of talks between the All Tribal Students Union Manipur and the Hill Areas Committee over the ADC Bill, 2021 and the arrest of 5 ATSUM leaders, efforts remained futile as the two sides failed to come to an agreement. (Visited 3 times, 3 visits today)
08th August 2022