Assam CM calls for rejecting VIP culture, asks BJP leaders to give up PSOs
Assam Chief Minister Himanta Biswa Sarma has called for all state BJP leaders to forego having PSOs or personal security officers. Addressing an event today, CM Sarma called for rejecting
Assam Chief Minister Himanta Biswa Sarma has called for all state BJP leaders to forego having PSOs or personal security officers.
Addressing an event today, CM Sarma called for rejecting the VIP culture by giving up PSOs. The Assam CM called upon state BJP chief Bhabesh Kalita to make sure that PSOs of all BJP leaders in the state are withdrawn.
Also Read: Northeast soaks in festive spirit of Christmas
CM Sarma also said that keeping PSOs is part of the VIP culture propagated by the erstwhile Congress government. He said that a new precedent needs to be set up by rejecting the VIP culture of Congress.
Meanwhile, the Assam government will not be imposing any fresh restrictions over the Covid scenario at least till New Year's time.
Speaking on the matter, Chief Minister Himanta Biswa Sarma said that there would be a press meet held in this regard by state health minister Keshav Mahanta.
Also Read: Cash worth Rs 150 crore recovered from UP businessman during IT raid
But CM Sarma made it clear that so far there is no plan to impose any fresh restrictions in the state at least till the New Year comes in.
It is to be noted that many states in the country have imposed fresh restrictions in the form of night curfews in view of the threat of rising Omicron variant cases in the country.
(Visited 1 times, 1 visits today)
First Published: 25th December, 2021 13:37 IST
COMMENTS
WE RECOMMEND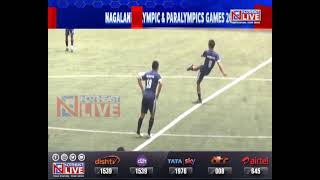 2nd edition of Nagaland Olympic & Paralympics Games 2022 begins today
𝐍𝐚𝐠𝐚𝐥𝐚𝐧𝐝 𝐎𝐥𝐲𝐦𝐩𝐢𝐜 𝐚𝐧𝐝 𝐏𝐚𝐫𝐚𝐥𝐲𝐦𝐩𝐢𝐜𝐬 𝐆𝐚𝐦𝐞𝐬 𝟐𝟎𝟐𝟐 | 𝐍𝐨𝐫𝐭𝐡𝐞𝐚𝐬𝐭 𝐋𝐢𝐯𝐞 | The 2nd edition of Nagaland Olympic and Paralympics Games 2022, "Football event", kick started today at Indira Gandhi stadium, Kohima, organized by Nagaland Olympic Association (NOA). (Visited 5 times, 1 visits today)
17th August 2022