Arunachal Chakma Hajong row: Chakma Body opposes relocation cry
Amid the growing resentment over the special census and relocation issue concerning the Chakma community, now, the Chakma Rights and Development Organization or CRDO has also come forward opposing the
Amid the growing resentment over the special census and relocation issue concerning the Chakma community, now, the Chakma Rights and Development Organization or CRDO has also come forward opposing the relocation of the community from Arunachal Pradesh.
Speaking on the matter, Anton Chakma, general secretary of CRDO said that the Chakma stands united against the relocation of the community or for that matter, conducting a special census, for the very fact that the community had been residing in Arunachal Pradesh since the last 57 years, even before the birth of the state.
Also Read: Meghalaya: UDP to work with HSPDP in 2023, alliance on cards
He urged the state government as well as the Centre to find out a humanitarian approach to the vexed Chakma-Hajong issue without being bogged down by threats and ultimatums by pressure groups.
Earlier, similar reactions came from the Chakma Gaonburah Association expressed its firm stand on the issue.
Also Read: CM Sarma meets BJP MLAs, discuss party & govt's improved coordination
Additionally, AAPSU general secretary Tobom Dai had accused that the CDFI of trying to derail the process initiated by the state government to resolve the protracted Chakma Hajong issue.
WATCH:
(Visited 3 times, 1 visits today)
First Published: 23rd December, 2021 13:13 IST
COMMENTS
WE RECOMMEND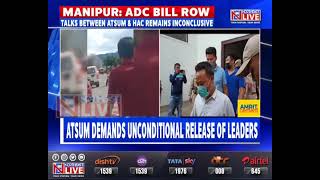 3 round of talks between ATSUM & HAC remains inconclusive
Despite 3 rounds of talks between the All Tribal Students Union Manipur and the Hill Areas Committee over the ADC Bill, 2021 and the arrest of 5 ATSUM leaders, efforts remained futile as the two sides failed to come to an agreement. (Visited 3 times, 3 visits today)
08th August 2022