AAPSU Polls: Scuffle breaks out during filing of nomination
#ArunachalPradesh | An ugly fight broke out between supporters of two student leaders in Arunachal Pradesh, during the nomination filing for the All Arunachal Pradesh student union election. As per
#ArunachalPradesh | An ugly fight broke out between supporters of two student leaders in Arunachal Pradesh, during the nomination filing for the All Arunachal Pradesh student union election. As per reports, Rajesh Apang, a candidate running for the post of Chief Editor was attacked by another candidate Gora Paku and his supporters.
First Published: 16th May, 2022 10:06 IST
COMMENTS
WE RECOMMEND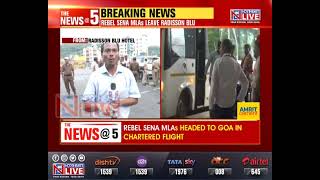 Rebel Sena MLAs camping in Guwahati head to Goa
𝐌𝐚𝐡𝐚𝐫𝐚𝐬𝐡𝐭𝐫𝐚 𝐏𝐨𝐥𝐢𝐭𝐢𝐜𝐚𝐥 𝐂𝐫𝐢𝐬𝐢𝐬 | Rebel Sena MLAs who had been camping in #Guwahati for over a week, have just left Hotel Radisson Blu and headed to the Lokpriya Gopinath Bordoloi International Airport. The rebel MLAs are headed to Goa ahead of tomorrow's floor test. The Rebel MLAs left in as many as 3 buses.
29th June 2022