8 insurgents from two factions of NSCN surrender in Arunachal Pradesh
In a big development, eight insurgents belonging to two factions of the NSCN surrendered before the police in Arunachal Pradesh's Longding district on Tuesday. Among them were five NSCN-KYA insurgents
In a big development, eight insurgents belonging to two factions of the NSCN surrendered before the police in Arunachal Pradesh's Longding district on Tuesday.
Among them were five NSCN-KYA insurgents and three from the NSCN-R faction, Longding's Deputy Superintendent of Police B Tangjang said.
A formal surrender ceremony was conducted at the DC office in Longding and certificates were handed to the surrendered militants.
Police sources have confirmed that the cadres were engaged in extortion and collection of taxes, and held influential positions in the outfits. Earlier, several insurgent leaders had joined the mainstream in a blow to the activities of the underground outfits in the region.
The surrendered NSCN-KYA cadres include self-styled 'lance corporal' Nyaipho Gangsa, 'sergeant' Wangkiak Wangsa and 'privates' Bowgang Gangsa, Alem Wangpan and Banthak Wangpan.
The rebels from NSCN-R who laid down their arms are self-styled 'sergeant' KhuapohWangpan, 'corporal' Nokthat Wangpan and 'private' WangjepWangsu, added the DSP.
The militants laid down their arms in the presence of Superintendent of Police Vikram HM Meena.
(Visited 4 times, 1 visits today)
First Published: 14th April, 2021 16:09 IST
COMMENTS
WE RECOMMEND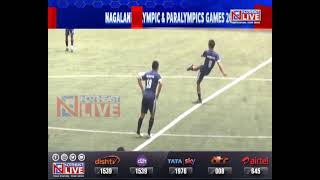 2nd edition of Nagaland Olympic & Paralympics Games 2022 begins today
𝐍𝐚𝐠𝐚𝐥𝐚𝐧𝐝 𝐎𝐥𝐲𝐦𝐩𝐢𝐜 𝐚𝐧𝐝 𝐏𝐚𝐫𝐚𝐥𝐲𝐦𝐩𝐢𝐜𝐬 𝐆𝐚𝐦𝐞𝐬 𝟐𝟎𝟐𝟐 | 𝐍𝐨𝐫𝐭𝐡𝐞𝐚𝐬𝐭 𝐋𝐢𝐯𝐞 | The 2nd edition of Nagaland Olympic and Paralympics Games 2022, "Football event", kick started today at Indira Gandhi stadium, Kohima, organized by Nagaland Olympic Association (NOA). (Visited 5 times, 1 visits today)
17th August 2022