Curtailed 50th statehood day celebrations for Meghalaya amid Covid scare
Amid the Covid spike, Meghalaya has decided to celebrate the 50th statehood day in a curtailed manner. The Golden Jubilee celebrations of statehood day will be curtailed by Chief Minister
Amid the Covid spike, Meghalaya has decided to celebrate the 50th statehood day in a curtailed manner.
The Golden Jubilee celebrations of statehood day will be curtailed by Chief Minister Conrad Sangma today after a crucial meeting held to prepare the course of action.
Also Read: Nagaland AFSPA Repeal: ENSF seeks speedy justice
Sangma informed that a centralized program will be held at the JN Sports Complex in Shillong with limited presence of individuals on 21st January. Only 30% attendance will be allowed for the Statehood day celebrations in Shillong. Meanwhile, All the districts will join the celebrations virtually.
Chief Minister Sangma, meanwhile, said that the state government is still waiting for confirmation from the PMO on whether Prime Minister Narendra Modi will be attending the Statehood Day celebrations.
Also Read: Covid 19: Booster vaccination drive for frontline workers and elderly begin in Assam
On the other hand, the Meghalaya Chief Minister said that the state government has adequate health infrastructure to handle rising cases of COVID-19 in the state. Briefing the media, Chief Minister Sangma said that the government is closely monitoring the hospitalisation rates and said that they are comparatively lower than in the previous waves. Sangma said that things are very much under control and urged people to get vaccinated as well as follow COVID protocols.
Conrad Sangma further added that people have come forward to take the booster dose and said that over 70% of the population have received the first dose.
WATCH:
(Visited 3 times, 1 visits today)
First Published: 10th January, 2022 21:15 IST
COMMENTS
WE RECOMMEND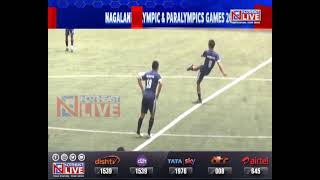 2nd edition of Nagaland Olympic & Paralympics Games 2022 begins today
𝐍𝐚𝐠𝐚𝐥𝐚𝐧𝐝 𝐎𝐥𝐲𝐦𝐩𝐢𝐜 𝐚𝐧𝐝 𝐏𝐚𝐫𝐚𝐥𝐲𝐦𝐩𝐢𝐜𝐬 𝐆𝐚𝐦𝐞𝐬 𝟐𝟎𝟐𝟐 | 𝐍𝐨𝐫𝐭𝐡𝐞𝐚𝐬𝐭 𝐋𝐢𝐯𝐞 | The 2nd edition of Nagaland Olympic and Paralympics Games 2022, "Football event", kick started today at Indira Gandhi stadium, Kohima, organized by Nagaland Olympic Association (NOA). (Visited 5 times, 1 visits today)
17th August 2022