15 killed in Nagaland following firing by security forces, one army soldier also killed
Fifteen villagers in Nagaland's Mon district were reportedly killed, and atleast two persons were missing when security forces opened fire on a pickup truck on Saturday evening, leading to angry
Fifteen villagers in Nagaland's Mon district were reportedly killed, and atleast two persons were missing when security forces opened fire on a pickup truck on Saturday evening, leading to angry reactions by locals.
Reportedly, the villagers were workers at a coal mine in the area. According to the community leaders in the area, the incident happened when they were returning from work. The security forces opened fire on suspicion that they were militants. The community leaders claimed that most of those killed were workers at a rat-hole coal mine in the area.
The incident happened at Oting village in the Tizit subdivision of Mon district. Angry villagers set ablaze some vehicles belonging to security forces, leading to more firing by the troops. One security force personnel was also reportedly killed during the violent clash.
Naga Mothers Association (NMA) adviser Rosemary Dzuvichu has condemned the incident by calling it an unacceptable violation of human rights ongoing amid peace negotiations. The NMA has also sought justice in the case and sought repealing of the contentious AFSPA Act.
(Visited 1 times, 1 visits today)
First Published: 5th December, 2021 8:44 IST
COMMENTS
WE RECOMMEND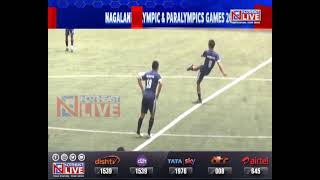 2nd edition of Nagaland Olympic & Paralympics Games 2022 begins today
𝐍𝐚𝐠𝐚𝐥𝐚𝐧𝐝 𝐎𝐥𝐲𝐦𝐩𝐢𝐜 𝐚𝐧𝐝 𝐏𝐚𝐫𝐚𝐥𝐲𝐦𝐩𝐢𝐜𝐬 𝐆𝐚𝐦𝐞𝐬 𝟐𝟎𝟐𝟐 | 𝐍𝐨𝐫𝐭𝐡𝐞𝐚𝐬𝐭 𝐋𝐢𝐯𝐞 | The 2nd edition of Nagaland Olympic and Paralympics Games 2022, "Football event", kick started today at Indira Gandhi stadium, Kohima, organized by Nagaland Olympic Association (NOA). (Visited 5 times, 1 visits today)
17th August 2022