10 year old minor raped in Tripura
Another incident of rape has been reported from Tripura. A 10 year old minor was allegedly raped by Rubel Ali in the Bhagwan Nagar area of Unokoti district. The victims
Another incident of rape has been reported from Tripura. A 10 year old minor was allegedly raped by Rubel Ali in the Bhagwan Nagar area of Unokoti district.
The victims parents were away working at the time of the incident. The accused however, later came to threaten the parents of the victim if they filed a report against him.
Later, a social organization went to the victim's house on June 1 and filed a case in Kailashahar Women's Police Station. However, the accused Rubel Ali is still on the run.
First Published: 2nd June, 2018 19:22 IST
COMMENTS
WE RECOMMEND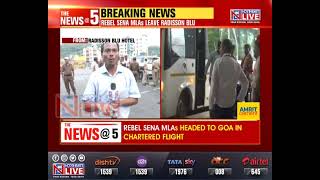 Rebel Sena MLAs camping in Guwahati head to Goa
𝐌𝐚𝐡𝐚𝐫𝐚𝐬𝐡𝐭𝐫𝐚 𝐏𝐨𝐥𝐢𝐭𝐢𝐜𝐚𝐥 𝐂𝐫𝐢𝐬𝐢𝐬 | Rebel Sena MLAs who had been camping in #Guwahati for over a week, have just left Hotel Radisson Blu and headed to the Lokpriya Gopinath Bordoloi International Airport. The rebel MLAs are headed to Goa ahead of tomorrow's floor test. The Rebel MLAs left in as many as 3 buses.
29th June 2022