Commonwealth Games: IOA writes to CGF on exclusion of popular sports
The Indian Olympic Association (IOA) has officially written to the Commonwealth Games Federation (CGF) to include shooting, archery, and wrestling in the 2016 CWG Games program in the Australian state
The Indian Olympic Association (IOA) has officially written to the Commonwealth Games Federation (CGF) to include shooting, archery, and wrestling in the 2016 CWG Games program in the Australian state of Victoria.
IOA secretary general Rajiv Mehta has sent a letter to the office of CGF president, Dame Lewis Martin stating, "It is a real shock to CGA India that these three most popular sports in the sports world were ignored by CGF.
In the last three editions of CWG, India has won 63 medals in shooting and 44 medals in wrestling. Archery 2010 Was and is played in most countries of the Commonwealth.
The letter further read, "CGA India 2026 strongly recommends the inclusion of shooting, wrestling, and archery as part of the CWG Sports Program. Since the 2026 Games are held in different cities, the host country may not have any reservations about hosting these three games (sic)."
"We request that our request be included in the agenda of the next General Assembly so that it can be discussed and a favourable decision can be taken by the House (sic)," Mehta urged.
The initial list of 16 sports, which includes Twenty20 cricket, does not feature disciplines such as shooting, archery, and wrestling.
Meanwhile, Australia's Victoria state has been confirmed as the host of the 2026 Commonwealth Games, with a heavy focus on boosting the regional economy.
The opening ceremony will take place at the iconic 100,000-capacity Melbourne Cricket Ground, the Commonwealth Games Federation earlier announced.
First Published: 23rd April, 2022 17:47 IST
COMMENTS
WE RECOMMEND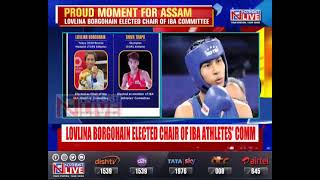 Lovlina Borgohain to head Int'l Boxing Association's athletes' committee
#Assam |In a proud moment for the state, Tokyo Bronze Medallist Lovlina Borgohain has been elected as Athletes' Committee Chair of the International Boxing Association. Lovlina Borgohain has received the highest number of votes in the election held at the 2022 Women's World Championships and thus she has been elected as the chairperson of the […]
27th May 2022