Meghalaya Cong confined to Khasi Hills now: UDP
The United Democratic Party (UDP) general secretary Jemino Mawthoh said that the Congress has been decimated to a Khasi party, as the Grand old party has been left confined only
The United Democratic Party (UDP) general secretary Jemino Mawthoh said that the Congress has been decimated to a Khasi party, as the Grand old party has been left confined only in the Khasi and Jaintia hills with no leaders in the Garo Hills.
Mawthoh wondered if the remaining five Congress MLAs would remain intact with the party.
Mawthoh said this has exposed the true colours of the Congress leaders as well as the party.
Jemino Mawthoh further added that it is an advantage for the UDP keeping in mind the present political situation in the state.
Also Read: World War II-era bullets excavated from Manipur's Moreh
The UDP leader said he was shocked when 12 Congress MLAs dumped the party only to join the Trinamool Congress (TMC).
Reacting to the emergence of TMC in Meghalaya, Jemino Mawthoh said he is not sure if there is acceptability of TMC among the people of the state.
Although Congress is in disarray, the party has a larger presence than the TMC.
Mawthoh said that according to the nature of politics in the state, it is more of a personality factor that makes the influence; as he referred to seasoned politician and former Congress veteran Mukul Sangma.
Watch: 
(Visited 1 times, 1 visits today)
First Published: 21st December, 2021 10:37 IST
COMMENTS
WE RECOMMEND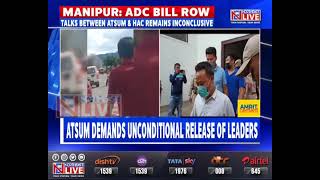 3 round of talks between ATSUM & HAC remains inconclusive
Despite 3 rounds of talks between the All Tribal Students Union Manipur and the Hill Areas Committee over the ADC Bill, 2021 and the arrest of 5 ATSUM leaders, efforts remained futile as the two sides failed to come to an agreement. (Visited 3 times, 3 visits today)
08th August 2022