Last Updated:

7th April, 2022 14:04 IST
Tripura | TMC to hit the streets of Agartala against price rise
The Tripura TMC is going to hit the roads of Agartala tomorrow in protest against the government's failure to halt price rise of fuel, gas, essential items and medicines. TMC
The Tripura TMC is going to hit the roads of Agartala tomorrow in protest against the government's failure to halt price rise of fuel, gas, essential items and medicines.
TMC steering committee convenor Subal Bhowmik, while addressing the media on Monday slammed the government for failing to stop inflation. He said that the nation is going through a huge financial crisis, and Tripura too has been prone to huge financial irregularities.
Bhowmick added that people residing in the rural areas have been bearing the brunt of government's failure, with crisis of food and water, poor road connectivity, and unemployment at its all time high.
Bhowmik further alleged that people are living under a constant threat of mob lynching which has become a regular phenomenon in Tripura.
First Published: 5th April, 2022 12:32 IST
COMMENTS
WE RECOMMEND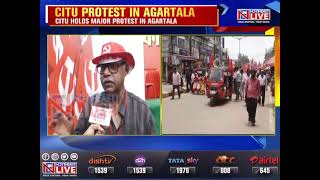 Tripura: CITU holds protest rally against unemployment, price hike
𝐂𝐈𝐓𝐔 𝐏𝐫𝐨𝐭𝐞𝐬𝐭 𝐢𝐧 𝐀𝐠𝐚𝐫𝐭𝐚𝐥𝐚 | The CITU yesterday organized a protest rally in Agartala protesting the rise of unemployment and the removal of labour laws. Talking to Northeast Live, CPI-M leader Tapan Sen accused the ruling BJP of acting as agents of the imperial designs of America and bringing up policies which are destroying the […]
29th May 2022