Tripura: TIPRA Motha chief hints alliance with IPFT
First Published: 22nd January, 2023 21:49 IST
TIPRA Motha chief Pradyot Debbarma has once again hinted that an alliance with IPFT may be on the cards for the party ahead of the crucial assembly polls in the
In a video statement, the Tipra Motha supremo and royal scion said that he is in talks with the IPFT and expressed hope that the two parties can contest the upcoming elections together. At the same time however, Pradyot Debbarma once again reiterated that Tipra Motha will not form an alliance with any party without a written assurance to support its 'Greater Tipraland' demand.
COMMENTS
WE RECOMMEND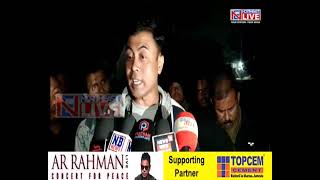 TANTRIKS ON A PYRE IN GUWAHATI
In a shocking incident, two tantriks were found sitting on the pyre at the Betkuchi cremation ground in Guwahati.
28th January 2023