Tripura By-polls: Voter allegedly stabbed on his way to poll station
Brisk voting is underway in Tripura and a polling percentage of 14.66 percent has been registered till 9 AM from 4 constituencies.
An instance of poll violence has been reported from Tripura. As per inputs, a person identified as Samir Saha has been allegedly stabbed while he was on his way to cast his vote in a polling station at Kunjaban at the 6-Agaratala constituency seat.
The injured victim has reportedly been rushed to the GB Hospital.
Meanwhile, brisk voting is underway in the four constituencies of Tripura that have gone for polls from 7 am today. A polling percentage of 14.66 percent has been registered till 9 AM.
Among early voters was Chief Minister Manik Saha the BJP candidate from the Town Bordowali constituency. Saha was accompanied by his wife as he cast his vote. Speaking to Northeast Live, Chief Minister Saha urged voters to come out in large numbers and exercise their franchise.
It is to be noted here that Chief Minister Saha is up against Congress candidate Ashish Kumar Saha from Town Bordowali.
Whereas, Congress's heavyweight and former Health Minister Sudip Roy Barman is contesting from 6-Agartala. The BJP has fielded Ashok Sinha from the same seat.
In other constituencies, in Surma, BJP's Swapna Das Paul is up against CPI-M's Anjan Das. The election in this seat is being held after BJP MLA Asish Das rebelled against his party, and was subsequently disqualified. Besides, the Tipra Motha has fielded Baburam Satnami from the seat, who is being supported by Congress.
Likewise, in Jubarajnagar which is considered a Left bastion, the BJP has fielded Malina Das against CPI-M's Sailendra Nath.
As for the TMC, the party has fielded candidates in all four seats as it looks to make inroads in the state.
All in all, a total of 22 candidates are in the fray for the by-polls which is crucial for both the ruling BJP and the opposition. Besides, close to 2 lakh voters are expected to exercise their franchise in the four constituencies
Notably, all polling stations are being manned by CRPF and BSF as the Centre has sent 25 companies of additional forces to ensure voters can exercise their democratic rights fearlessly.
Webcasting facilities have also been made available at all polling stations, and micro observers have been deployed to ensure a free and fair election.
And not just this, Section 144 of the CrPC has also been imposed in areas where elections are taking place. The authorities have also prohibited the bulk movement of vehicles.
Now, one has to wait till June 26 to see which party will have the last laugh.
First Published: 23rd June, 2022 11:53 IST
COMMENTS
WE RECOMMEND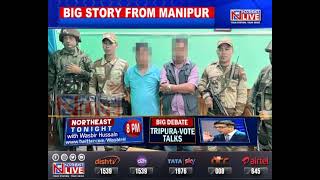 Manipur journalists arrested for alleged links with insurgents
#Manipur | Former All Manipur working journalist union president Bijoy Kakchingtabam and standing committee member Leimapokpam Shanjitkumar Singh have been arrested for allegedly trying to recruit new cadres for the proscribed #UNLF. The accused duo was arrested from Bishnupur bazar near Ngaikhong crossing along Tiddim Road. As per reports, The duo were working under command […]
27th June 2022