Tripura to get taste of adventure tourism as Paragliding starts at Jampui Hills
In a bid to attract more tourists in the state, the Tripura Tourism Development Corporation has decided to venture into adventure tourism. The Corporation has introduced paragliding in the Jampui
In a bid to attract more tourists in the state, the Tripura Tourism Development Corporation has decided to venture into adventure tourism. The Corporation has introduced paragliding in the Jampui Hills of the state with the first flight taken from Balianchip and landing at Baganbari on Saturday.
Speaking on the development, Director of Alpine Wonders Private Limited, Manu Bedi, said that the new initiative will not only attract tourists but also generate employment for local youths and strengthen the state's economy.
Notably, Alpine Wonders Private Limited is the agency engaged for the selection of various sites for suitability of paragliding in the state.
Meanwhile, Mrinal Kanti Das, the Assistant Director of Tripura Tourism Development Corporation said, adventure tourism has been introduced in the state for sustainable development through promoting tourism and to make Tripura attractive for tourists.
Chief Minister Biplab Deb also lauded the new initiative that has a potential to bring in more tourists to Tripura. Sharing a clip of the new paragliding clip from the Jampui Hills he wrote on Twitter "Adventure lovers! Be ready to experience some thrilling activities. Today we successfully kicked off the first paragliding flight from Jampui Hills. Tripura is ready to host travelers from across the globe who want to experience the serenity of nature with some adventure sports."
It is to be mentioned that the Tripura Tourism department had started looking into the possibility of Adventure tourism in the state for which Jampui Hills was selected for Paragliding.
(Visited 15 times, 1 visits today)
First Published: 10th January, 2022 12:21 IST
COMMENTS
WE RECOMMEND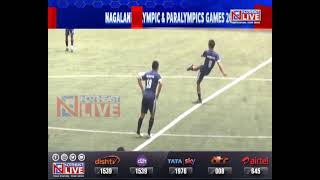 2nd edition of Nagaland Olympic & Paralympics Games 2022 begins today
𝐍𝐚𝐠𝐚𝐥𝐚𝐧𝐝 𝐎𝐥𝐲𝐦𝐩𝐢𝐜 𝐚𝐧𝐝 𝐏𝐚𝐫𝐚𝐥𝐲𝐦𝐩𝐢𝐜𝐬 𝐆𝐚𝐦𝐞𝐬 𝟐𝟎𝟐𝟐 | 𝐍𝐨𝐫𝐭𝐡𝐞𝐚𝐬𝐭 𝐋𝐢𝐯𝐞 | The 2nd edition of Nagaland Olympic and Paralympics Games 2022, "Football event", kick started today at Indira Gandhi stadium, Kohima, organized by Nagaland Olympic Association (NOA). (Visited 5 times, 1 visits today)
17th August 2022