Tripura: All classes from pre-primary to class 7 suspended amid Covid scare
As the number of Covid-19 infections is rapidly increasing in the state, Tripura's Education Department has decided to suspend all classes from pre-primary to class seven and close down all
As the number of Covid-19 infections is rapidly increasing in the state, Tripura's Education Department has decided to suspend all classes from pre-primary to class seven and close down all hostels for students, however, classes for students from eight to 12 shall continue and with 50 percent students attending classes on alternate days with the consent of parents. This was declared by Tripura's Education Minister Ratan Lal Nath yesterday.
Addressing the media, Nath informed this following the decisions taken during a meeting of the state's education and Health Department.
The new circular shall be in force from January 17 and continue till January 30.
Also Read: Tripura: Youths beaten by cops as car breaks down before ahead of CM convoy
Nath informed that the classes from the eighth standard are kept open so that students can also avail the vaccination drive going on for students of this age group.
He added that in the case of higher education, already declared examination of university and college students shall continue but by strictly maintaining Covid appropriate behaviour and guidelines and that students appearing for the examinations might be divided into two shifts if necessary.
The Education Minister also said that the government shall resume classes up to the seventh standard in the department's cable channel 'Bande Tripura' and if the schools want they may also emphasise virtual classes where it is feasible.
Moreover, the Education Department shall also resume its programme of 'Ektu Khelo, Ektu Poro' which it ran during the first two-phase of Covid.
Watch: 
(Visited 3 times, 1 visits today)
First Published: 16th January, 2022 10:41 IST
COMMENTS
WE RECOMMEND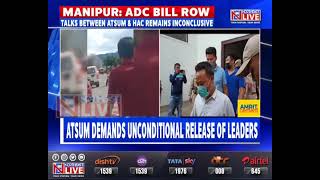 3 round of talks between ATSUM & HAC remains inconclusive
Despite 3 rounds of talks between the All Tribal Students Union Manipur and the Hill Areas Committee over the ADC Bill, 2021 and the arrest of 5 ATSUM leaders, efforts remained futile as the two sides failed to come to an agreement. (Visited 3 times, 3 visits today)
08th August 2022