Assam: TLA, UGPO lay down arms, joins mainstream in presence of CM Sarma
Two more Assam based rebel groups have joined the mainstream. Two little known groups, the Tiwa Liberation Army(TLA) and the United Gorkha Peoples Organisation (UGPO) had established contacts with security
Two more Assam based rebel groups have joined the mainstream. Two little known groups, the Tiwa Liberation Army(TLA) and the United Gorkha Peoples Organisation (UGPO) had established contacts with security agencies and conveyed their decision to come to the negotiating table.
Leaders of the rebel groups laid down their arms in presence of Chief Minister Himanta Biswa Sarma at the Sankardev Kalakhetra, Guwahati today.
Chief Minister Himanta Biswa Sarma said that the era of tribal insurgency in the state has come to an end.
Also Read: War against Drugs: Assam Police seizes Burmese cigarettes worth Rs 20 lakh in Hailakandi
Speaking on the sidelines of laying down of arms by the TLA and UGPO, Chief Minister Sarma said that there are no tribal groups active as they are now in talks with the government.
Welcoming the rebels to the mainstream, Chief Minister Sarma once again appealed the United Liberation Front of Assam or ULFA-Independent (ULFA-I) to come and join the talks table for a solution.
Besides, the Assam Chief Minister also urged the  Kamtapur Liberation Organisation (KLO) to reciprocate the peace push of the state government.
Watch: 
(Visited 9 times, 1 visits today)
First Published: 27th January, 2022 21:10 IST
COMMENTS
WE RECOMMEND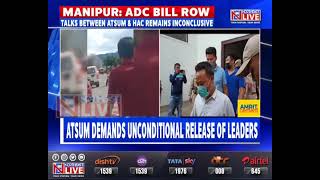 3 round of talks between ATSUM & HAC remains inconclusive
Despite 3 rounds of talks between the All Tribal Students Union Manipur and the Hill Areas Committee over the ADC Bill, 2021 and the arrest of 5 ATSUM leaders, efforts remained futile as the two sides failed to come to an agreement. (Visited 3 times, 3 visits today)
08th August 2022